Quilting Therapy
I started quilting a little over a year and a half ago. I had always wanted to try it. I started making one a little after my cat Pusskins came up missing and never came home. He was a black long hair with a pom pom tail with two kinks in his tail. In some cultures, the kinks in a cat tail are considered good luck. Pusskins and I had a special relationship. He found me about 9 years ago. He was outside my apartment door sitting waiting for me. He had no collar and no tags. He was kind of skittish. He kept coming around. I started putting food out for him and made a little shelter for him. Soon he started coming in the house and made friends with our Basset Hound Brandy. They kind of had a love hate relationship. Anyway he quickly became a momma's boy and we shared special times together. He really did not care for anyone else except for me.
He was an indoor / outdoor cat that mostly stayed around the house. When we moved to New Mexico, I kept him inside for several months before letting him out. We have a dog door for the dogs so it was not an easy task. Soon he was able to go outside and seemed fine for several months. Then one night he went out and never came back. I looked and looked but never found him.
I was pretty messed up about my loss so I decided to make a quilt in memory of him. It was great therapy because I was learning something new and it took up lots of time. I designed the quilt myself and just kind of made it up as I went along. I designed the quilt as a five blocks across and five blocks up. I made the blocks first that was the most fun. It has a black cat motif and hearts on it. I have finished the front and back of the quilt and now I need to attach them together with some batting and then do the quilting. It is on the back burner at this point but I plan to do the quilting by machine. Otherwise it would never get done. Here are some photos of the front and the back.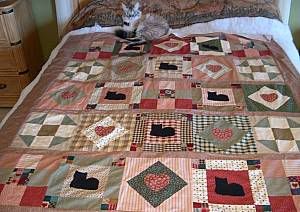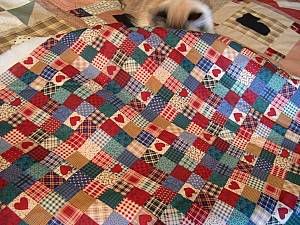 Fabric on the back of quilt