Bunny's Story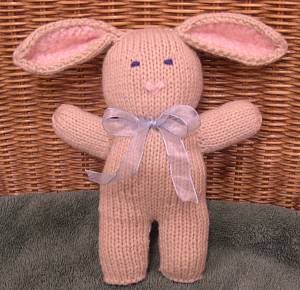 I finished my bunny for the bunny along. I used the pattern from Last –Minute Knitted Gifts. I used Nature Spun sport weight yarn in color Aran for the body, Nature Spun in color Nordic blue for the eyes, & Patons Divine in color Chantilly Rose for the inner ear and nose. I just used polyfill for the stuffing. This pattern was lots of fun to knit. It was cool how it all came together.
After I was finished my husband was curious as to what I was doing with the bunny all over the house. I told him Bunny was doing his photo shoot. He gave me a strange look and then said "That's nice dear".
Bunny's Story
Bunny joined our family in March of 05. He quickly made himself at home. He enjoys spending time in the back yard and has been known to climb a tree here and there.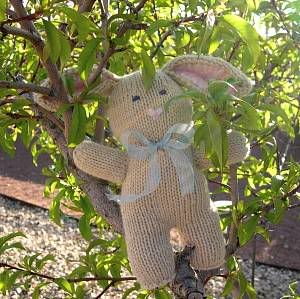 Rumor has it that bunny has joined a frog band as lead vocalist and might be planning on touring this summer with his new band mates.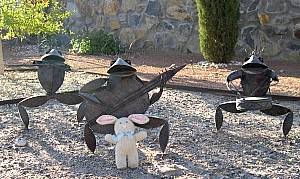 Bunny is desperately afraid of Cosmo and his sharp teeth. Bunny tries to stay very still when Cosmo comes near.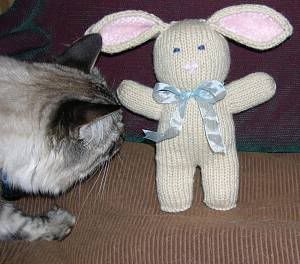 Bunny prefers tea over coffee. He says there is nothing that warms him better than a nice hot cup of tea.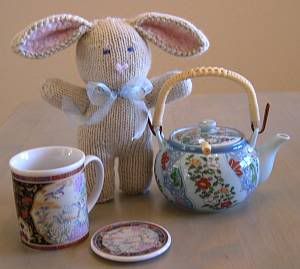 Bunny's best friend is Brandy. They enjoy spending time together and sharing secrets.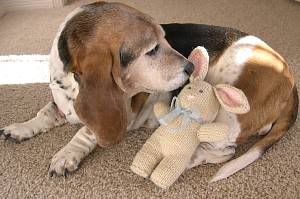 We are glad Bunny has joined our family.