Haley's Story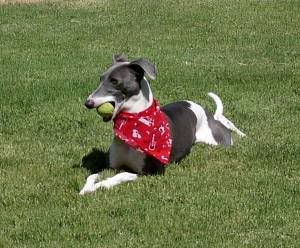 Chris and I had finally bought our first house and decided it was time to get a second dog so that Brandy could have a playmate. We had been promising her all these years that we would get a second dog when we were able. We did some research on different types of dogs. I wanted a dog that was easy to train. We were looking for a small dog that would be easy to take care of.
There was an Italian Greyhound up for sale and we never thought of that kind of dog but after looking it up in our dog breed book, we thought she would be perfect for us. So we ran out that day and brought her home. She was so tiny and shy at first.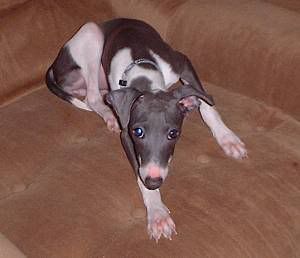 It did not take her long to bring out her true personality. Haley and Brandy hit it off right away. Haley was the little annoying sister. Always nipping Brandy's tail or tugging on Brandy's ears to get her to play. They would chase each other and wrestle all over the back yard.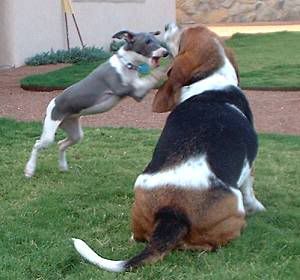 Haley loves being outside in the sun. She goes out through the dog door and will lay out in the grass for hours sun bathing. She is also very fast. She leaps and runs so fast. She loves to chase the birds in the back yard. She comes very close to catching them.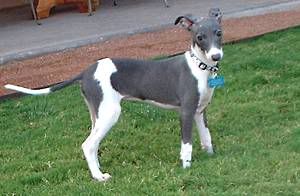 Haley is a sensitive dog whom really likes to please you. Her favorite spot is curling up on your lap and sleeping. She also gets cold easily and likes to wear either her sweatshirt or parka on chilly mornings. Here she is the first time experiencing snow with her sweatshirt on.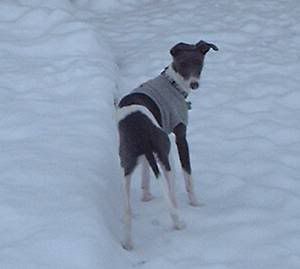 Once we brought Cosmo our cat home they were instant best buds. They chase each other all over the house. Haley will even give Cosmo a bath and clean out his ears. It is so much fun watching them play together. Cosmo is like Haley's accomplice. Cosmo will get up on things to knock down stuff for Haley to chew on.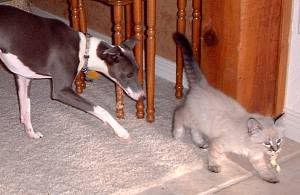 We are so glad we found Haley and she is a part of our family.