Knitting is my Cup of Tea
I started knitting a couple of weeks ago. I had wanted to learn for some time now. I finally went to the book store and scoped out the books on learning knitting. I spotted the book called
Stitch'N Bitch
by Debbie Stoller. It is an awesome book that is also fun. She teaches all the basics and then some. Plus there are pictures of each of the steps. I highly recommend it if you are just learning how to knit.
Well I started out and my first project was the Go-Go Garter Stitch Scarf. I used a lighter weight yarn then what was specified in the pattern because I wanted a laceier airy look. I also made it a little shorter because I am short and I did not want it to be two long for this bulky style scarf. It turned out great and not that bad for my first knitted object.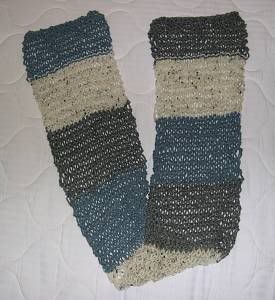 My second knitted project was from the book
Felted Knits
by Beverly Galeskas. I made the Pocket Purse pattern. I modified the pattern a little and made it a little wider. This was lots of fun and it knitted up real fast on a circular needle. The felting part was time consuming and very hairy. For felting I put the knitted bag in a zipped pillow case cover then tossed it in the washing machine with some old jeans and towels. I used hot water with a little of liquid dish soap. I stopped the washer every ten minutes to check the process and stick my hand in the pocket and the bag to make sure it was not felting closed. This is were it is hairy the thing shed worse than my dogs and smelled of wet sheep. This took for ever but finally the bag was the size I wanted. It took several days to dry completely. I am happy with the results. Although I probably will not felt something so large again. Maybe just hats, mittens and booties. I call it my Root beer bag. It kind of reminds me of a mug of root beer.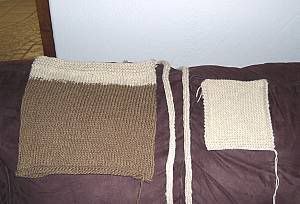 This is the Knitted main body, two I-cords, & a pocket before stitching together.
This is the bag stitched together before felting.
Finished Root Beer Bag.