Knitting Obsession
There comes a time when one stops, and asks themselves am I obsessed with my new hobby? The answer that came back to me was YES!
Here are some recent clues that have brought me to my conclusion
First, there was a link on
Lauren's
blog. It was for
The Yarn of The Month Club
. I checked it out immediately. I was so excited about it you would think they were going to drop off gold coins to my doorstep. What they do is choose four of the latest yarns and send you a sample of each, along with a pattern and a newsletter. I rushed to tell my husband all about it. He smiled and gave me the look. You know the one where he is looking at you and thinks you have lost your mind. He remained smiling and said that is nice dear. He quickly returned to what he was doing. I signed up and am waiting for Mr. Post Man to deliver my first months stash.
Then there was this past weekends stop at the bookstore. I picked up this book called
Knits for Barbie
by Nicky Epstein.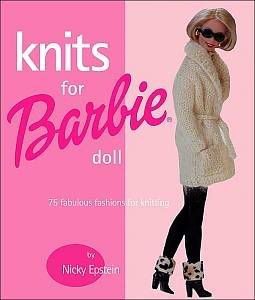 Ok I know what you are thinking. Why is this grown woman buying a book on Barbie knits and she has no children. I grew up with Barbie's and probably had them longer than I should have. I did end up selling my dollhouse and all my Barbie stuff to a mom that was giving them to her daughter as a Christmas gift. My mom had pushed me at the time to sell my stuff when I was in Middle school. I think I still think back upon it and wish I had kept some of the things. So seeing this book brought back found child hood memories. The book has 75 patterns to knit for Barbie. My grandma use to sew many of the clothes I had for my Barbie's and I think it would be cool to show her some clothes that I knitted for Barbie. My next step was to buy a Barbie. Looking over the dolls, I realized they have changed a lot. Wider hips and smaller busts, I assume that happened due to the unrealistic shape she use to have. I chose one out of the Cali Girl series. I think she is some kind of surfer girl. I am naming her Rosey. Here is a picture of her. Don't worry she will be dropping those surfer duds and trading them in for knitted fashions as soon as I get to it.
Of course, it does not stop there. I found the coolest calendar at the bookstore. It is a
2005 Knitting Pattern-a-Day calendar
. It is a box calendar that sits on your desk and each day you rip off a new knitting pattern. I am considering this a Christmas Present to myself and will not open it until Christmas.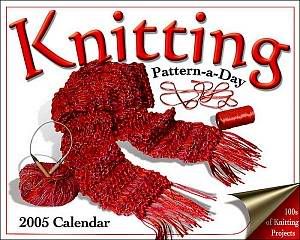 Front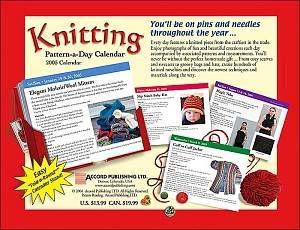 Back
I guess from here I should just accept the fact I have gone off the deep end and just revel in the excitement I refer to as Knitting.