Tuna Noodles Romanoff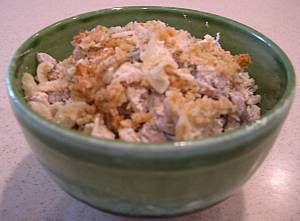 This is a quick and easy dish to make. I like making casseroles because you can toss all the ingredients in the dish and stick it in the oven. Then you have time to go play before dinner. This dish is a tasty fancy smancy tuna noodle casserole dish.
Ingredients:
4 cups uncooked egg noodles (8 ounces)
2 (6 ounce) cans tuna -- drained
1 cup sliced mushrooms (3 ounces)
2 tablespoons capers
1 1/2 cups sour cream
3/4 cup milk
1 teaspoon salt
1/4 teaspoon pepper
1/4 cup seasoned dry bread crumbs
1/4 cup Parmesan cheese -- grated
2 tablespoons margarine or butter – melted
Directions:
Heat oven to 350º.
Cook and drain noodles as directed on package.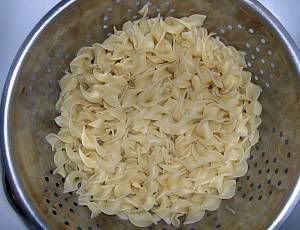 Mix noodles, tuna, mushrooms, capers, sour cream, milk, salt and pepper in large bowl or pot you cooked the noodles. Put noodle mixture in an ungreased 2-quart casserole or square baking dish, 8 × 8 × 2 inches.
Mix breadcrumbs, cheese and margarine; sprinkle over tuna mixture. Bake uncovered 30 to 40 minutes or until hot and bubbly.