Knitting with Butter
I finally decided on my next knitting project. I already have a couple of knitting books, several magazines and probably 30 free patterns downloaded onto my computer. I guess I have high ambitions for my knitting. Therefore, it was hard to figure out what to start on next. I keep going back to the Stitch'N Bitch book. I decided on the sweater pattern named Scully. For my first attempt at knitting a sweater, I thought it looked like an easy enough pattern to start with. In addition, it has an intarsia pattern on the sleeves and I am very interested in trying my hand at that.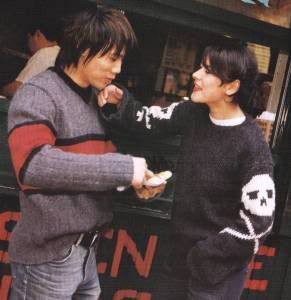 Scully Sweater from Stitch'N Bitch Book
The sweater is done in a dark grey worsted weight yarn with a skull and crossbones motif done in white yarn on the sleeves. This is not exactly my style, so I decided to change it up a bit. I decided to knit my sweater yellow and knit a teddy bear face motif on the sleeves.
First, I had to tackle the motif using graph paper and the same dimensions as the skull and cross bones. I found a free bear motif off the internet and I modified it to fit into the graph. This took forever and lots of white out to get it how I wanted it. Not to mention I was blind for about an hour after looking at the graph paper for so long. I am happy with the results.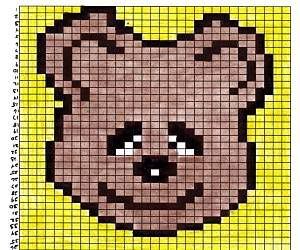 My Bear Motif
I have chosen easy care yarn for my sweater. I plan to wear it around the house so I will need to be able to just toss it in the washer on a regular basis. I chose Red Heart yarn in color-cornmeal for the sweater. I chose Caron simply soft in white & black for parts of the bear motif. Then lastly Lion Brand Wool blend Ease in color-chocolate Brown for the bear's face.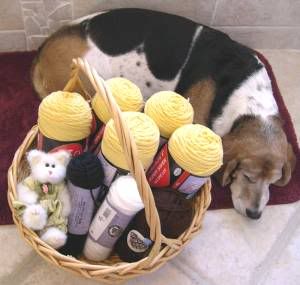 The more I looked at the yellow yarn I chose the more I kept saying "It's Like Butter". So I decided to call it my Butter Bear Sweater.