Tea Time
I love a good cup of tea. I am particularly fond of
Celestial Seasonings Tea
. Have you seen the artwork on the boxes?
I just love the artwork. Plus each box of tea has a couple of short quotes. Like this quote from Emily Dickinson "Good times are always mutual; that is what makes good times." Here is another one from Henry Ward Beecher "The difference between perseverance and obstinacy is that one often comes from a strong will, and the other from a strong won't." I have tried several different flavors and they are all good. Some flavors I have tried are Perfectly Pear White Tea, Bengal Spice, Imperial White peach, Chamomile Green, Honey Lemon Ginseng, & Madagascar Vanilla Red.
I remember when I was a little girl and my grandmother would make me a cup of tea with milk and extra sugar. We would hang out talking and sipping our tea. To this day when I have a warm mug of tea in my hands, it brings feelings of comfort and home.
Knitting Progress on the Butter Bear Sweater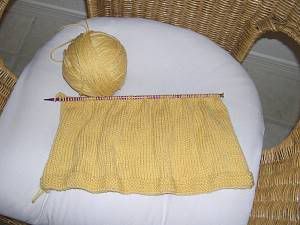 I have started back up again. The pattern starts with the front piece. There was one part were I had to rip out a little. What happened was I set it down to go see what the dogs were into and when I came back to it I must have picked it up backwards and finished working the row but I mistakenly went back down the row the way I was coming from. Of course, I did not know this until I was a couple more rows up. I noticed a weird looking hole, I counted my stitches, and I did not loose a stitch so I ripped down to the whole and that is when I figured out what happened. I do not like to rip down because it is so scary trying to get the tiny loops back onto the needle right. A couple of the loops end up facing the wrong way and I need to turn them around when I get to them. Well all is well now and slow and steady wins the race. I continue on the front until I reach 17 inches in length.