Frogging in the Butter
Progress on the Butter Bear sweater, not so good. I made a couple of swatches using different needle sizes to try to match the gauge. The pattern called for a size 10 ½ needle. I sort of matched the gauge with a size 12 needle. So I started the project but did not care for how airy the knitting was looking. I decided I liked the look best with the size 10 needle. I started the project for the fourth time using the size 10 needle but since it was so much smaller, I cast on for the biggest size in the pattern. It was looking great.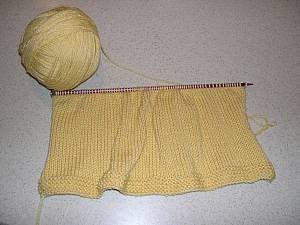 After I got far enough along I measured the width and realized the sweater would be tight fitting. I would rather it be more comfortable and be able to wear a t-shirt underneath. So a frogging I went and ripped it out again. My husband at this point thinks I am nuts. I would rather rip it out now then continue on not being happy with the results and never wear the sweater. Besides, I am getting lots of practice with my knit and purl stitch.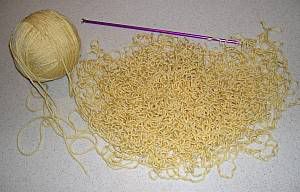 I watched the movie Gone with the wind the other day on Turner Classic Movies. I hate the ending of that movie but I always get sucked into watching it. Anyway Scarlet cracks me up. This post on frogging brings to mind a couple of the quotes from the movie.
Scarlet: "I can't think about that right now. I'll go crazy if I do. I'll think about that tomorrow."
Also by Scarlet: "After all tomorrow is another Day!"