Crab Quiche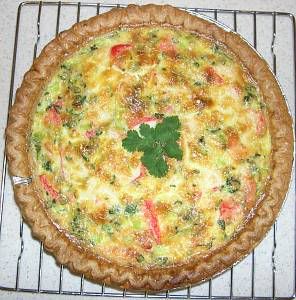 9 inch pie crust
For filling
1 (1-lb) king crab leg, thawed if frozen, or 1/2 lb lump crabmeat, picked over
4 large eggs
2 cups heavy cream
2 tablespoons finely chopped fresh chives
2 tablespoons finely chopped fresh parsley
2 tablespoons finely chopped fresh cilantro
1/2 teaspoon seafood seasoning (I used Old Bay)
1/2 teaspoon salt
1/4 teaspoon black pepper
1/8 teaspoon freshly grated nutmeg
2 oz coarsely grated Monterey Jack cheese (1/2 cup)
2 oz coarsely grated Swiss cheese (1/2 cup)
Bake pie shell by follow instructions on package, then let cool completely.
Make filling:
If using crab leg, hack through shell with a large heavy knife and cut meat into 1/2-inch pieces. Discard shell.
Whisk together eggs, cream, herbs, seafood seasoning, salt, pepper, and nutmeg, then stir in cheeses and crabmeat.
Pour into pre-baked crust, bake at 375 degrees until filling puffs, and is no longer wobbly in center when quiche is gently shaken, 40 to 50 minutes.
Cool in pie plate on rack 15 minutes. I covered edges of piecrust with foil while baking so not to burn edges.
This was my first time making this recipe. It turned out tasting awesome. I served Quiche with sour cream & salsa and a side of black beans. I will definitely make this again.