Dancing Blue Footed Boobies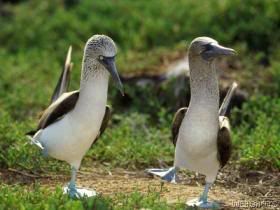 This photo was one of the photos of the day on the Webshots home page. I think the picture explains how I feel this moment due to the fact it is FRIDAY! Feel free to dance along with me and these cute guys.
Sock Progress
First I want to thank all of you that posted comments. Thank you so much for your encouragement and helpful tips. You are the BEST!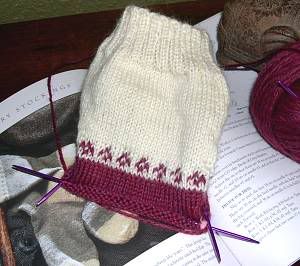 I am really loving this sock. I absolutely love that mulberry color. This sock is the one thing that has gotten me out of bed this week to go to work. Knowing that I could work on this sock on the drive to work each morning literally was the only thing that helped me out of bed when the alarm went off. Anyone else start their knitting at 6:30am?
I have gotten the hang of the dpns. I am even starting to like them. I also made an accomplishment this week. I have done a SSK. Yes! I can officially add the slip, slip, Knit, stitch to my knitting knowledge. I went on and on to my husband about it as we were driving to work. Telling him all about how this will open a whole new world of more complicated patterns for me. He replied "that is nice dear". I don't think he fully comprehended what I was telling him so I had to switch to something he could relate to. I told him the more different stitches I learn the closer I will get to become a Jedi knitter. I am only a Padawan at the level I am knitting at right now. OOooooo! Now he gets it. 8)
I Have Been Tagged
I was tagged by the lovely and talented
General Ginger
for the music questionnaire. Her blog is one of my favorites. Go see the giant spider she made. It is one of the coolest things I have seen.
Music Questions
:
1.
Total amount of music files on your computer?
I was afraid of being tagged specifically because of this question. I am embarrassed to say I have less than 20 music files. Although if I ever get a cool IPod I am sure I would have lots.
I am one of those people that still like to buy the CD. I am also in the group of the dorky people that buy the CD hoping that the artist included the words to the songs in the CD jacket. Yes I am not ashamed to say I will whip out the words and sing along with the songs.
2.
The CD you last bought is:
The last CDs I bought were at Bestbuy. Hubby went in for some new technology and I tagged along. I usually head right for the music. I bought Tina Turners two discs "All the Best Tina" & Celine Dion's "Celine All the Way..A decade of songs". Tina Rocks. Yes I have been listening to Tina since the 80's with her hit songs "Better be good to Me" & "What's Love got to do with it". I think I was about 12years old using my curling iron as a fake microphone and belting out Tina Turner lyrics. Those were the days.
3.
What is the song you last listened to before reading this message?
I am still hooked on that Rachael Yamagata CD and I have it playing right now the song "Worn Me Down". LOVE THAT SONG!
4.
Write down 5 songs you often listen to or that mean a lot to you.
"Don't Know Why" by Norah Jones. This song always reminds me of my lost cat Pusskins. We were very close and one day he never came home. The lyrics are very fitting.
"Just a Girl" by No Doubt. This is one of my favorite work out songs. It is fast paced and I love the lyrics. It always pushes me harder. I feel the song is very empowering to all us girls out there.
"I'm Free" by The Soup Dragons. This is pretty much my theme song. Any time I quit a job I did not like or finished a term in college. The first thing I did after walking out the door was start singing this song. This song Rocks!
"Pocket Full of Rainbows" by Elvis. I love Elvis at least the young Elvis. I also love Oldies. The songs were simple short and sweet. This song is me. I always know I will be OK, because I have got a pocket full of rainbows.
"In the Air Tonight" by Phil Collins. It would be very easy for me to list a ton of favorite songs by Phil Collins or the group he use to be in named Genesis. This song in particular brings me back to my youth. The lyrics don't mean much to me but I love the way the song sounds. How many times have we faked playing the drums through the drum sequence in this song? Too many times to count. Plus Phil Collins wrote songs for Movies. That is always a plus in my book. Lets not forget "Against All Odds" When that song plays at the end of that movie. Talk about feeling the moment. Gotta Love Phil!
5.
Who are you going to pass this to? (3 persons) and why?
I am going to leave this up for grabs. Anyone not been tagged that would like to give it a go, TAG YOUR TURN. Let me know if you take me up on it so I can read yours also.
Secret Pal News
I recently spent my amazon giftcard from my Secret Pal. I will post about it when I get my delivery. I am tracking my package. It is in Texas right now. Should be here soon.