Split Pea Soup with Sausage and Potato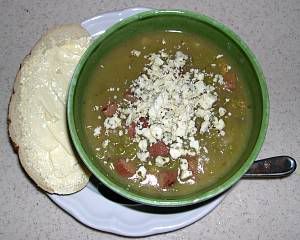 This is a real simple recipe I got from Epicurious.com News letter.
Ingredients

5 sausage Links (I used Kielbasa)
1 12-ounce russet potato, peeled, diced
1 large onion, chopped
1 ½ teaspoons chopped fresh rosemary
1 ¼ cups green split peas, rinsed
4 cups chicken broth
Directions

Saute' sausages in heavy large pot over medium-high heat about 4 mins. Add Potato, onion, and rosemary. Saute' until onion is soft, about 5 minutes. Mix in split peas, then broth. Bring Soup to simmer. Reduce heat to low. Cover and simmer until peas are tender, stirring occasionally, about 1 ½ hours. Ladle into bowls.
I topped the bowls of soup with garlic & herb crumbled feta cheese, and served the soup with bread & butter
The soup turned out great. I will probably make this again.