Frosty Paws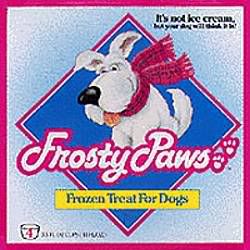 We picked up a new treat for the dogs last time we were shopping at Wal-Mart. It is called Frosty Paws. It is marketed as Ice-cream for dogs. After taking the girls to the vet to get there badly needed nails clipped, we decided to treat them with a little ice-cream snack.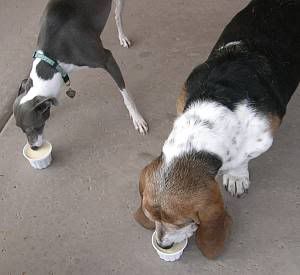 It was pretty funny to watch. They kept licking the frozen ice-cream like two little girls with ice-cream cones. They both enjoyed their new treat.
Save the Drama for your Momma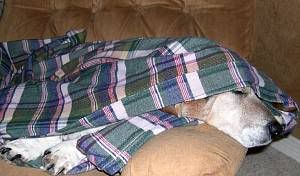 Here is a picture of Brandy that depicts how I feel this weekend. I just want to crawl under the blankets and forget about this past week.
You would not believe the drama that is going on in the majority of my employee's home lives. We had a pretty good work week it is just the personal stuff going on that was overwhelming. Some of the things that these people are going through are:
Court date during the week, death in the family, eviction, & pregnancy out of wedlock.
I am hoping next week will be a little less drama. I am afraid now of any employee that comes to my office and mutters the words "I need to talk to you about something." I told Chris the other day as we were driving home that I wanted to find that sign that reads "Save the Drama for Your Momma" and hang it up in my office. He laughed.
Treating Myself to Some Stash Enhancement
Today I plan to stop by my local yarn shop. This time I have written up a project list on the computer. I listed all the patterns I would like to make and their yarn requirements. I also wrote up a list of all the needle sizes I have, that way if there is a size I need for an upcoming project I can get one.
I am making good progress on the Hello Kitty handbag. I will post photos in my next post. I decided that I would add the flower in Hello Kitty's hair after I finished the knitting. Maybe embroider one on with ribbon. I have not decided yet. I thought it would look nice to add it afterward to make it more dimensional and pop out more.