Tomato & Blue Cheese Soup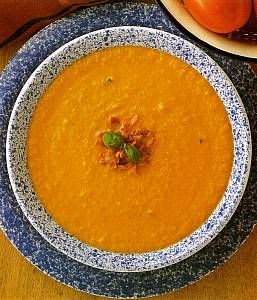 Yesterday I whipped out
The Soup Bible
by Debra Mayhew. I decided to try a new recipe. I found the Tomato and Blue Cheese soup under the rich and creamy category. It looked easy enough.
Ingredients:
3 pounds ripe tomatoes, peeled, quartered, and seeded
2 garlic cloves, minced
2 tablespoons vegetable oil or butter
1 leek chopped
1 carrot chopped
1 ¼ quarts unsalted chicken stock
4 ounces blue cheese, crumbled
3 tablespoons whipping cream
several large fresh basil leaves
1 cup cooked and crumbled bacon, to garnish
salt and freshly ground black pepper
I went to the grocery store to pick up my ingredients. I had to have a produce employee help me figure out what a leek was. I was confused with the leeks and the bok choy because nothing was labeled. The leek looks like a huge green onion. Much of the ingredients I already had at home. For the bacon I use the already cooked stuff and just put it in the toaster oven for a minute and a half.
Instructions:
1) Heat oven to 400 degrees. Spread the tomatoes in a shallow baking dish. Sprinkle with the garlic and some salt and pepper. Place in the oven and roast for 35 minutes (I did not peel the tomatoes but I did seed and quarter them)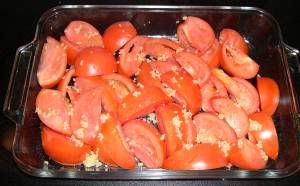 2) Heat the oil or butter in a large saucepan. Add the leek and carrot and season lightly with salt and pepper. Cook over low heat, stirring often, for about 10 minutes until soft
3) Stir in the stock and roasted tomatoes. Bring to a boil. Lower the heat. Cover and simmer for about 20 minutes.
4) Add the blue cheese, cream, and basil. Transfer to a food processor or blender and process until smooth, working in batches if necessary. Taste and adjust the seasoning.
5) Reheat the soup, but do not boil. Serve garnished with bacon.
The recipe serves four. I did steps 1 through 4 in the afternoon. After blending it smooth I stuck it in the fridge then just pulled it out to reheat when it was close to dinner time. I served the soup with grilled cheese sandwiches. My husband likes pepper jack cheese in his sandwich and I made mine with Swiss cheese. Both complimented the soup well. Plus there is plenty of leftovers to have later on in the week.