State Fair
I went to the State Fair this weekend. The weather was just perfect. It was sunny but there was a cool breeze that kept you from getting too hot. I really like going to the fair to look at the animals. I always threaten my husband and tell him I plan to bring home a rabbit. I enjoyed some tasty carnival food. I had a long corn dog with curly fries & Funnel Cake with cinnamon sugar. I also bought a Carmel apple to bring home and eat the next day.
I secretly was hoping there would be some wool yarn to purchase from someone that was selling their homespun wool. No such luck, there was only one booth with wool yarn skeins for sale. They were very small and only a few to choose from. Nothing worth spending the money on. I figured there would not be much to offer in the way of yarn at the fair because this was the same weekend Taos New Mexico was having their wool festival. I believe Taos is around a 4 to five hour drive for me to get there. Maybe next year I will plan to go to the wool festival and get a place to stay over night in town. Nanette from blog
Knitting in Color
went to the Taos Wool festival and she talks about it in a post. It sounds like a great festival.
Here are some photos from the fair.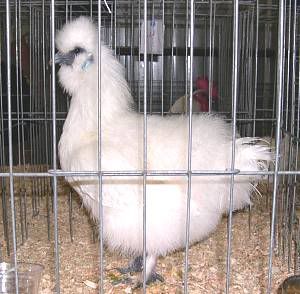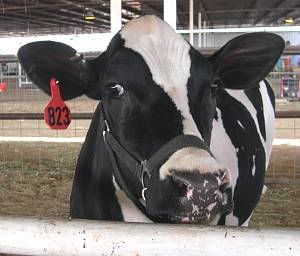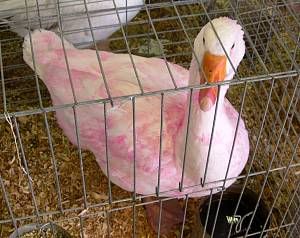 Yes this is a pink Goose. I wonder what color eggs she lays?
I have been RAOKed
What a wonderful WELCOME into the RAOK Ring. I received two $5 gift certificates to
Adagio Teas
. One from
Tess
& one from
Lisa Y
. These were a wonderful surprise to find in my e-mail box. How cool is that? I love tea. I recently bought a special teapot that has a filter for fresh tea leaves. I live in a small town and the tea leaf selection is pretty pitiful. I have already looked at the website and have several types I plan to sample. Here are some of the names I plan to try: Cha Cha, Pina Colada, Fox Trot, & Oriental Spice. Thank You so much for your acts of kindness.
It does not stop there. I also received an E-Card from
Knitsteph
. This card was so adorable. It definitely brought a smile to my face, which is hard to do on a Monday morning. It had several animals in a yard playing instruments. I played it a couple of times. I would like you to know this card was so me. I even have three garden ornamental frogs that play instruments in my yard. One plays a drum, another plays a flute and the last plays a guitar. Is that not funny? Thank you so much for the Monday Morning cheer. Here is a picture of them.