How About a Little Sun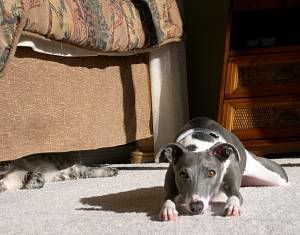 Haley enjoys a sun bath with brother Cosmo.
Haley prefers full sun and no sun screen. Cosmo likes a little sun with available shade.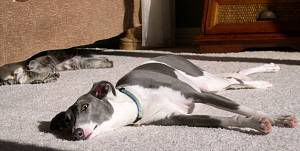 Mitten Progress
Finished my first mitten and now starting it's clone. When I cast on for the second mitten I started to have thoughts of myself as an old lady. I think that when I am an old lady I plan to just make one of any pattern of mittens and socks, therefore I will be the crazy old lady down the street whom only wears unmatched socks and mittens. I look forward to that future of course the thoughts continued and I added in a pair of old dogs and a handful of cats. What crazy old lady does not have lots of pets?
Bunny a Long
I spotted a new knit-along. It is the Bunny-a-long. Just in time for Easter. You can make anything rabbit related before Easter. I am tempted to join, although I am scared of the deadline. There are plenty of free bunny patterns listed on the site and also a few to purchase. I found this one in my book "Last Minute Knitted Gifts" by Joelle Hoverson.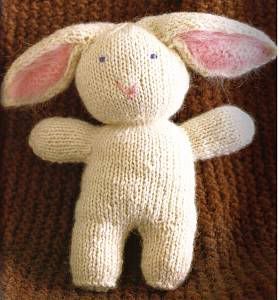 You can find out more about the bunny along
here
.
Easter Time
Around this time of year I get excited about one thing. That is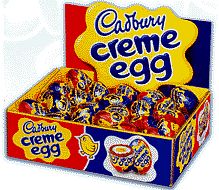 Cadbury Crème Eggs
Oh Yea baby! I don't care which came first the chicken or the egg. All I care is that the egg keeps coming back every year. 8)
If you would like to learn more about the Cadbury egg go
here
.
If you would like to go straight to The Land of Cadbury , first a warning there is sound linked to this site. There are a couple of cute stories and some games and crafts for the kids.
The Land of Cadbury
.
A Look into My Garden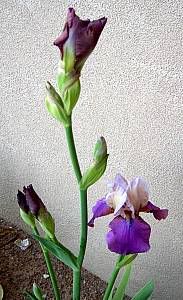 My Irises are starting to pop up through out my yard. I picked up several different kinds a couple of years ago at an Iris Society showing in the local mall. Each one was priced around a dollar or two. Every one of them has bloomed for me and they keep coming back. If you are interested in a certain plant it is always a good idea to check to see if there is a local society for that specific plant and attend one of their functions or meetings. All of the different ones I have been to always had plants for sale at very low prices.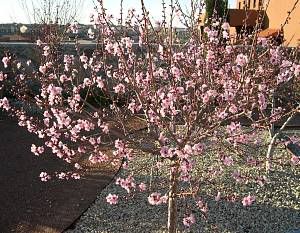 My dwarf peach trees are starting to bloom. One of my favorite parts of fruit trees is the beautiful blooms they put out in the spring.