Patiently Waiting
I am still waiting for my yarn I ordered for the bunny-along. It has been over a week and I have not heard anything. Hopefully I will hear something this week.
I did receive my mags I ordered from The Knitting Garden.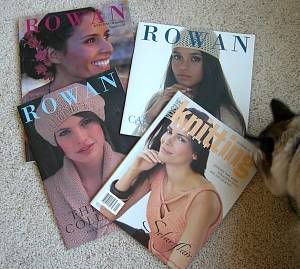 I ordered some older ones because none of the new ones really caught my eye. I got Rowan #33, Rowan the Calmer collection, Rowan the Cork collection, and Vogue Knitting spring/summer of 04.
I have looked through these at least 100 times and have finally decided on my next big project. I chose this Cardi.
This Cardi pattern is called Air and it is in The Rowan Calmer collection. I like almost every pattern in the collection. Plus from what I have heard the yarn is wonderful to work with. I went ahead and ordered the yarn for the project. I ordered the same color as the photo, yarn in color "Drift". I tend to wear a lot of pastels or bright colors in the Spring and Summer so I figured that color would go good over tanks and tees.
So I am patiently waiting for yarn to arrive so I can get started on the bunny & the cardigan. In the mean time I could not help myself (MUST KNIT, MUST KNIT). I cast on for another pair of socks. I found a simple pattern off the internet I am working on. Don't want to show anything until I actually feel confident that it is going to turn into a sock. If it doesn't this will be the last you hear of that attempt. I can not believe this sock thing is kicking my butt. I won't give up. Failure is not an option. 8)
Took Kids to the Park
Today we took the kids to the park. Of course I forgot the camera. It is hard to make sure you have everything once the dogs have seen their leashes it is a frantic mess until all dogs are accounted for and loaded in the car. This is the first time we took them to this park. It is pretty nice it has grass and trees, and also a mote that has water in it. It looks like a little lake. This water was a first for Haley. Living in the dessert she does not encounter water on the ground ever. She was pretty funny she walked right into it. If hubby did not have the leash she probably would have kept going and started swimming. Hopefully one day we will be able to take her to the ocean, she has never seen it. I think she would have a blast running around on the beach. They had a great time at the park reading all the doggie messages left behind on all the trees and benches. They each left a couple of messages themselves. We are good pet owners and always bring several bags to clean up after them.
Here are some pictures of the girls relaxing at home after a fun time at the park.