Happy Easter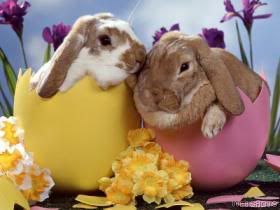 Webshots photo
I love the bunnies and the baby chicks that are always pictured around this time of year. If you remember back to my Aug 22 of 04 post I mentioned the bunny that would hang out in my yard. Here is a picture of him.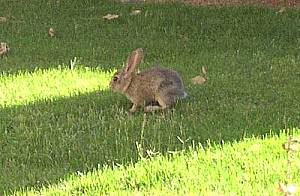 At the time I thought he was a loner and was concerned for his safety. Little did I know how true the saying multiplied like rabbits was? There has got to be at least 50 of these cotton tails running around the neighborhood. I see them all the time. Just this morning I left the house at 6:30am and was heading out to grab some breakfast scones and coffee. I spotted two cotton tails in the neighbor's front yard. I made sure to keep my eye on them and to drive slowly. I smiled to myself and thought about how it was Easter morning and they were doing some last minute hiding of the eggs. Then when I arrived back home with breakfast goodies I spotted another one in my front yard. They are so cute. I planted some ornamental cabbage last fall hoping they might need some food this winter. They did not touch the stuff. Maybe I will plant some real lettuce or carrots this year for them. I can see the headlines now. Farmer Tami invites Peter Rabbit to come eat in her garden.
Orchid for Easter
Hubby picked me up an orchid last time he went to Sam's Club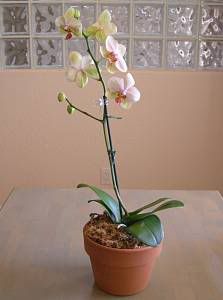 I Love It. This Orchid is a Phalaenopsis.
Here is a close-up of the flower.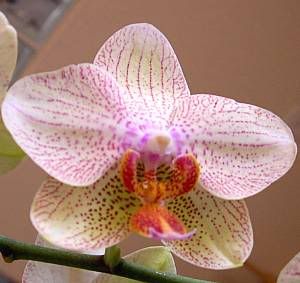 So cool. I am glad the flowers last a couple of months because I never seem to get them to re-bloom.
Easter Morning

The girls enjoyed playing outback this morning. Looks like it is going to be a gorgeous day. Here is a picture of Brandy scratching her back. She likes to roll onto her back and wiggles her back end in snake like fashion to scratch the back from top to bottom. I usually call her my little piggy when she does things like this. With that spotted big belly and short legs she reminds me of pigs on the farm.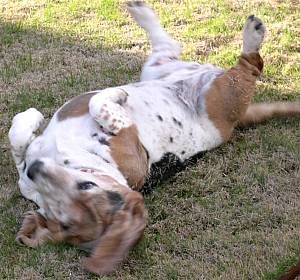 Haley and Brandy had a good old time chasing each other and wrestling in the grass. Here are some action shots.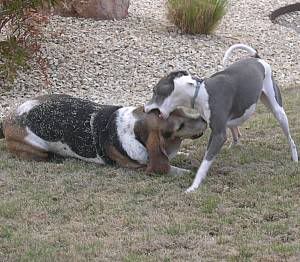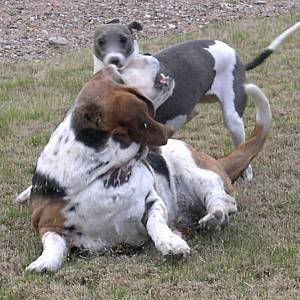 Bunny A-long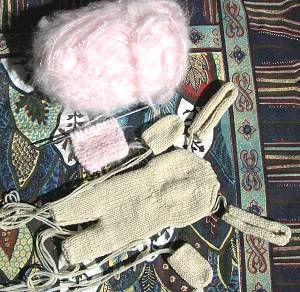 I was hoping to be done by now with my bunny. As you can see he is still in pieces. I tweaked the pattern a bit on the main body section. The pattern called to use two circular needles at the same time. One for the front and one for the back. They would be attached because of how the legs were connected but it would leave a separate front and back piece that you would later need to seem up both sides. I thought this method was a waste of time and decided to move it onto dpns. I still have an opening down between the legs to stuff him with. I think it will be a little more durable with out all the seems. Plus less time involved when I put him all together. That fluffy ball of yarn is Patons "Divine" in color Chantilly Rose. I am using that for the inner ear and the nose. They should have named it cotton candy. It reminds me of those little alien things called Trbbles that were on Star Trek
The Episode was called "The trouble with Tribbles" Tribbles also multiplied like rabbits. 8)
Easter Links
Easter It's Roots & Symbols
- very interesting read
Treasures of the World
- About Faberge' Eggs
Worlds Largest Egg
- Its Big
Egg Trivia
- All you need to know about eggs
The Holiday Spot
- Something for the kiddies and the whole family