Homemade Stitch Markers
Here are my stitch markers that I made.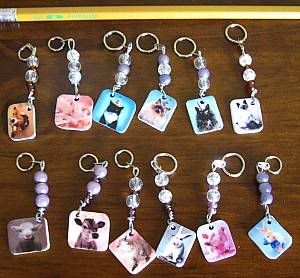 I used the shrinky dink method from Knit Powers to Peace. The photos are all pictures from my favorite animal photographer Rachael Hale. I love them all. The ones that came out the best were the ones that were lighter in color. I did lighten each photo using my photo editor I have on my computer. It still did not help the ones that were all dark colors. Here are two of the photos that did not come out due to being too dark.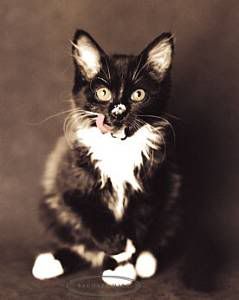 This is Mochacino photograph by Rachael Hale
This is Henry photograph by Rachael Hale
Making these stitch markers was a ton of fun. The shrinky dink part only took me 10 minutes in the oven at 300 degree. The part that took the longest was the wire and beads. The photos I made each one the longest side only 2 inches. In the instructions it said 2 to 3 inches. I liked the smaller size. I think that this could become very addictive for me, especially the shrinky dink part.
If you would like to find the stitch marker instructions to make some of your own, go
here
.
Sock Problems

I was doing great with my first sock. I hit a few small snags, like when the pattern said something about tbl & wyf. I did not have my abbreviations with me so I had no idea what that was. When I got to work I looked them up and of course it was tbl=through back loop & wyf=with yarn in front. Silly me, I should have figured them out. Yea RIGHT!
Now for the worst part. First I must say I love this sock. Even though as I kept going the sock was turning out big enough for the jolly green giant. Still I went on and told myself these will be my large comfy house socks. One should always swatch before knitting an item one plans to wear. Yes I know , but I was too excited to get started. All this aside I still was planning on continuing with my large sock until. (horror music plays now) The turn Heel. I am trying to do the turn heel and I am transformed into Spok and the darn thing is too illogical for my brain to make it happen. I even tried to follow the pattern blindly and not to think about it to much. Still it is not turning out.
I think my problem is that I should have started with an easier sock pattern. Once completing an easier sock I will know how it is suppose to go and would be able to make harder socks and my brain will have some data to refer to. So as I wipe my tears I am ripping out the sock and looking for a simple sock pattern for beginners. I am still excited about socks and still plan to make many of them in my future.
Knitting Plans
This weekend I hope to cast on for a couple of small items. Also I would like to figure out what my next large item will be. I am very tempted to buy the Colinette Absolutely Fabulous throw kit. Siow Chin over at Little Purl of the Orient finished hers in the French Vanilla Color Way. It is gorgeous. Go check it out
here
. The kit is a little pricey. Does any one know of a blanket or throw kit that is a little easier on the wallet?