Where Does the Time Go
I finally finished up my gardening this morning. It was a two day adventure. It was sunny both days but it was windy. No need for me to exfoliate for awhile due to the wind blowing the sand around my exposed skin. I think the worst part had to be digging up the dead plants. Since I live in the desert the root systems I swear go all the way to China. Here are the plants I bought to replace a couple of dead plants. I also grabbed a couple of pretty flowering plants for my front courtyard area.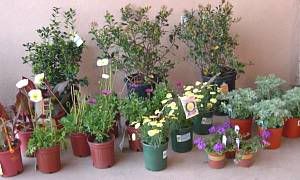 List of plants: Dwarf Dark Pink India Hawthorn, Dwarf Burford Holly, Cannas, Dark Purple African Daisies, Iceland Poppy Mix, Lemon Sugar Marguerite, Worm Wood, & Lanal Blue Verbena.
I am most excited about the Cannas. I bought the "Tropicanna"variety . Last year I remember seeing them in some of the garden catalogs. I was so happy to be able to find that variety at Lowes. The leaves are multi hued and the flower is brilliant tangerine orange. I can't wait to see what it looks like when they start blooming.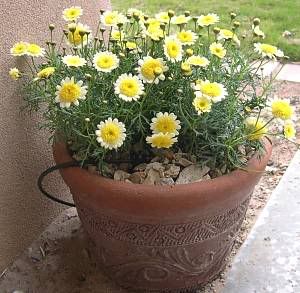 "Lemon Sugar" Marguerite
This plant was so cheery and the name is so yummy I had to bring it home with me. I planted it in one of my old terracotta pots and put it near the front door.
The Verbena I was also pleased to find. I grew a bunch of it when I lived in Oregon. I love the deep purple clusters of tiny flowers. Plus the name always makes me think of Little House on the Prairie. On the show Laura's teacher Miss Beadle wore the scent Lemon Verbena. A Little trip down memory lane.
All the plants I bought I found at Lowes or Home Depot.
Cardi Craziness
I got pretty far on my cardi.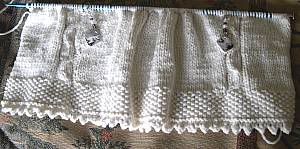 Unfortunately I had to rip back down to the moss stitch border. This picture is just to show the progress I had made before the ripping. There was a section where I had to make one and I did the method where you pick up the yarn in-between the next stitch and the one you just did. Then place it turned onto the left needle and then knit into it. Well the further I went along the more it irritated me how it did not look right. Also the more I checked my work I discovered a purl where there should have been a knit. That was the last straw. I knew I should have ripped back at that point instead of continuing on. It was not that noticeable but I kept looking for it and seeing if it was noticeable. Then I knew it did not matter, I NOTICED IT, and it was driving me crazy. So I ripped it back. I did not have to rip all the way to the border but I could not figure out where I was in the pattern it is a 12 row pattern with the cable running on both sides. It was just easier to start from the beginning of the 12 row sequence.
I actually feel great about ripping it back and I am also enjoying knitting the pattern. I am knitting into the front and then the back of the same loop for my make 1 and it looks much better. Of course I love the yarn.
Short review on the Movies I watched this weekend

As you know I rented Sideways & Spanglish. "Sideways" I have no idea what to say about that movie. Weird movie. I was thinking it was going to be funny, two guys take off for a week and check out wineries. This movie had some funny moments, but overall it is about two losers. It was kind of depressing.
"Spanglish" was pretty good. Although not as good as I thought it was going to be. I like Adam Sandler and also like Tea Leoni. One of my favorite movies is "The Family Man" which stars Tea Leoni & Nicolas Cage. I thought Spanglish was going to be that good. I pretty much cried through the entire ending.
One last review. Hubby and I watched "Van Helsing" last night. It was on Starz. It is that vampire movie starring Hugh Jackman & Kate Beckinsale. I was not looking forward to watching this one but hubby was looking forward to it. I have a thing about vampires. I am freeked out by them. My neck is very sensitive and I can barely watch anything vampire related with out getting skidish and squeamish. Some people can not watch when people give blood and a needle is poked into the skin. Well for me it is someone's teeth going into the neck flesh. Hubby enjoys teasing me about it. He tries to torcher me.
With that said "Van Helsing" was probably the least scary of all the vampire movies I have seen. There was two parts were there was a sudden jump out scene with noise. You know that cheap trick they do in scary movies. Other than that, not too scary. There was a ton of bad jokes told through out the movie. The jokes seemed out of place. The movie also had Frankenstein and a couple of werewolves. Overall a good movie to knit by.
Time to Wind Down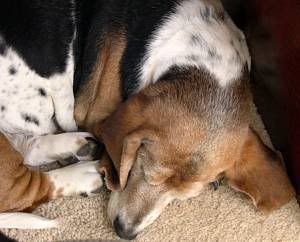 Brandy has passed out and is lying under my desk by my feet. She helped me outside while I was gardening. Tasting my flowers, grabbing a glove and running around the back yard, & lets not forget the time she helped me by taking a crap right next to where I was working thinking I might need some fertilizer. 8) Gotta Love Em
I plan to rest these last couple hours before having to get up tomorrow and go back to the grind. Have a great week.