Happy Halloween
The girls are dressing up this year.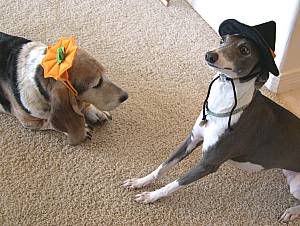 I think Witcheepoo turned someone into a pumpkin head.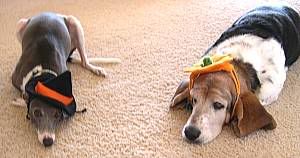 Hurry up Mom with the photos lets get to the TREATS!
Halloween Knitting
As soon as I saw the Skull scarf on Knitty I had to make one for myself. I used Lion Brand Yarn "Lion Wool" in color winter white. I did not have time to order the recommended yarn so I just went down to my local hobby shop and found the Wool Lion brand. It works great for felting. If I had more time I wanted to make another scarf in black and do an intarsia orange pumpkin at the end. Maybe next year.
You can find the pattern for the scarf
here
.
Cosmo
was creative with his costume. He is going as laundry.