Poetry
My first love of writing started with poetry. As a kid I would often write poems to express what I was feeling or going through at the time. I was always on the look out for good poetry that had a way with words that touched me or made me feel something. I recently came across a poet that is worth mentioning if you have not heard of her and am a closet poet. Take a look at some of her work.
Her name is Kim Addonizio. She has published a handful of poetry books and just recently published a novel.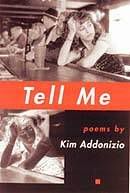 Here is one of the poems I like by Kim Addonizio. It is from her poetry book titled Tell Me.
"What do You Want?" by Kim Addonizo
I want a red dress.
I want it flimsy and cheap.
I want it tight. I want to wear it
until someone tears it off me.
I want it sleeveless and backless,
this dress, so no one has to guess
what's underneath. I want to walk down
the street past Thrifty's and the hardware store
with all those keys glittering in the window,
past Mr. and Mrs. Wong selling day-old
donuts in their cafe, past the Guerra brothers
slinging pigs from the truck and onto the dolly,
hoisting the slick snouts over their shoulders.
I want to walk like I'm the only
Woman on earth and I can have my pick.
I want that red dress bad.
I want it to confirm
your worst fears about me,
To show you how little I care about you
or anything except what
I want. When I find it, I'll pull that garment
from its hanger like I'm choosing a body
to carry me into this world, through
the birth-cries and the love-cries too,
and I'll wear it like bones, like skin,
it'll be the goddamned
dress they bury me in.
For more info on Kim Addonizio and her books check out her website
here
.
Have a great week.