Birthdays & Anniversaries
July 7th was my 6 year wedding anniversary. Hubby and I have actually been together 12 years and married 6 of them. We moved in together about three months after we started dating and have been together ever since.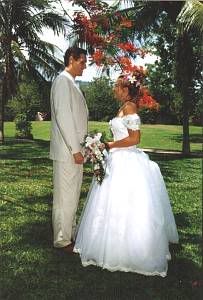 We were married in Jamaica. I decided I would rather spend the money that we got for the wedding on the honeymoon so we did the destination wedding thing. We booked a week at an all inclusive resort in Jamaica and they provided the wedding for free. This worked out great at the time because we were both in college and short of funds.
I bought my dress used and had it altered the way I wanted it. My main criteria for the dress was it had to have a huge puffy skirt like Cinderella. I wanted it so puffy that if I started to twirl I could lift off the ground. I love the dress and would not have preferred any other. I wore platform tennis shoes with blue socks that had cats on them. That was my something blue. My husband is over a foot taller than me so I needed height but there was no way I could do the 6 inch heels. The tennis shoes were more my speed. For my something borrowed my MIL let me where a set of pearls she had.
My MIL and my Step Mom were witnesses to the wedding. We told all family members they were welcome to come to the wedding the only thing was that no one was aloud to stay at the same resort as us. I walked myself down the aisle and that is the way I had it planned from day one. I felt that I alone had gotten to this place in my life and no man not even my Father had any right to give me away. It was a private moment for me that most were not aware of but it felt real good to walk alone to meet my husband at the end of the row.
Our wedding was wonderful and perfect for the type of people we are. We preferred to have a small short wedding and a nice long honeymoon. We left our honeymoon and came home as husband and wife well rested and with no debt from the wedding.
I think that the reason why hubby and I are still together is because we have an appreciation for one another and do not take each other for granted. Of course there is the love but you really need more than that to be together for 12 years.
My Gift

This year is definitely one of the best anniversary gifts I have ever gotten. Of course the best gifts are the ones from my five year plan. I made an arrangement with my husband back when we got married that every five years we have been married on that anniversary I will receive some kind of jewelry. I thought this was a brilliant plan and think more women should have this arrangement. Anyway lets get to this year.
This year hubby bought me this beautiful Mexican Hutch.
I Love this Thing. Guess what I am putting in it? My STASH of course. It is my new knitting cabinet. I will put all my books, notions, and yarn all in one place. I just love all the drawers and storage space. The glass doors on the top are a plus so I can keep the dust off and still be able to see my books and stuff. I went out and bought a couple of baskets at Pier 1 Imports (conveniently they were having a 40% off sale on most of their wicker baskets) to organize the cabinet. This is one of those pieces of furniture I think I will have forever. Hubby gets a gold star for this present.
Haley's Birthday
Haley's birthday was on the 1st of July. She is now three years old. She is a cutie potootie. Her day was pretty much the same as any day accept for the fact I kept getting her revved up telling her it was her birthday. This weekend I am thinking of taking her to the new Petsmart that just opened in our town so she can pick out something for her birthday.