Holiday Shuffle
Ever feel like the Holidays are closing in on you. Of course you have. That is what I have been feeling this week. Sometimes you need to break away from the hectic holidays and make a little something for yourself. Let me introduce you to my:
Christmas Sock Monkey.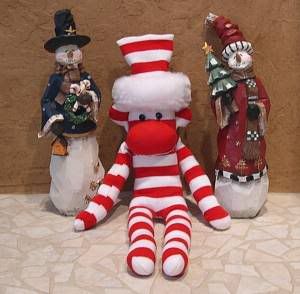 Yep I took some time out from baking and shopping and crafting to make this super cute sock monkey. I have been wanting to make a sock monkey for awhile. While I was out shopping at target. I spotted these Holiday stockings.
My first thought should have been those are a little over the top. But my reaction was SOCK MONKEY! I think they were $3.99.
Here is the
pattern
to make your own sock monkey. I used polyfill to stuff him with. He is super soft and cuddly.
Baking up Presents
This year I decided to bake up some treats for my employees. Little did I know how time consuming this would be. Everything turned out great and I got them done on time. I chose five different baked goods for the baskets. I baked everything up in two days and divided them up into these foil pans.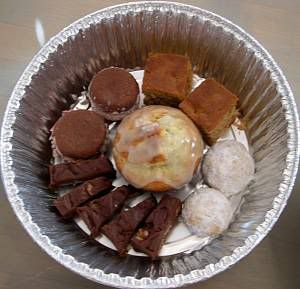 The baked goods are: Walnut Fudge, Lime Snowball cookies, Chocolate candy cane cookies, Lemon Poppy seed Muffins, & Butterscotch Blondies.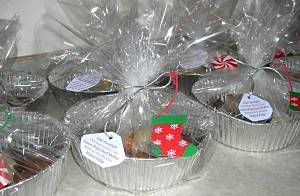 I bought cellophane wrap and wrapped them all up like baskets and put tags on them listing what type of goodies were inside.
Helpful Elves
They got the right idea. Wouldn't it be nice to just lounge around and then have all the fun when the holidays get here.