Winter Solstice
Webshots Photo
Today is the first day of winter. To me that means from here on out the day light will be getting longer. Only a couple more days until Christmas so I added a how to last minute gift idea to this post if anyone is still scrambling.
Finished My Christmas Stocking
It is made from the pattern in Holiday Knits titled Striped Christmas Stocking. I used Frog Tree's 100% alpaca Wool in color #26, #31 & #000. I enjoyed knitting with the Frog Tree yarn and will definitely use it again. Here is a look at the stocking inside out. I just ran the three colors up the inside as I went around. In the end it made for less ends to weave in.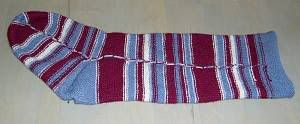 This heal was the easiest I have ever done. The heal is made exactly like the toe. Too bad it probably would not work for a sock you would wear.
Scented Gift
This is a great last minute gift idea. I usually make a couple of these every year. It is also a good gift to make a couple of extra in case some one drops by the house you had not planned for, you can hand them one of these.
These are called Pomander Bowls. I first spotted them in one of my holiday craft books Martha Stewart's "Handmade Christmas". The photos were taken from the book to help you see what I am talking about.
What you need:
an Orange
Whole cloves
Decorative bowl
Raffia or Shredded paper
Ribbon to match bowl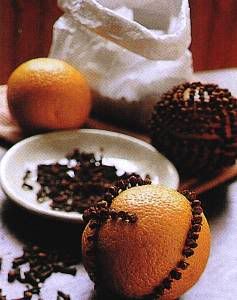 Put the whole cloves in a bowl and get comfy on the sofa and start poking the cloves into the orange. You can use a toothpick to first make the hole but I did not find it necessary. The cloves go right into the orange skin. Completely cover orange and let it sit overnight to dry.
Then put some raffia in your decorative bowl set the cloved orange in it. Wrap decorative ribbon around bowl and add a trinket or something if you like to the top. These gifts smell wonderful. Plus they last a long time. I have one in my kitchen that is over a year old. The orange dries just like dried flowers. You do not need to buy a bowl and ribbon that is in holiday colors because people can keep it out all year round.
Knit Inspiration
Here are a couple of bags from The Gap.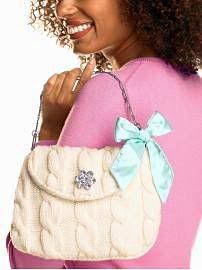 I might try to make one of these it is so cute and I enjoy doing little projects with cables.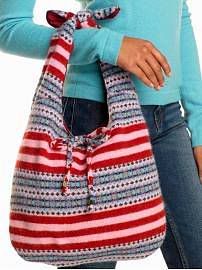 This fair isle bag is great. After making a fair isle bag myself I know how much time and money it took for me to make it. I really like the way they did the handles. I might do a version of these handles next time I make a Booga Bag.
I am so looking forward to the weekend. Just a few more days!