Halloween Decoration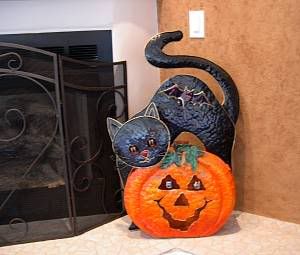 Well I pulled out my one Halloween decoration. I got this a couple of years ago at Sam's club. I usually put it by the fireplace. It has a place inside to put tea light candles behind the eyes of the cat and the eyes and nose of the pumpkin. It looks pretty neat all lit up.
In Weasley News
I finally received my pattern & received my yarn. Yippee! I swatched a couple of times and decided to go with the # 5 US needle. Although the swatch came out perfect for 4 inches of rows, I came out short two stitches across. I did the math and this will actually work out perfect for me, because I am making the sweater for myself and the pattern is a child's pattern. I could use the extra width for better comfort. Plus I was thinking ahead and ordered extra yarn.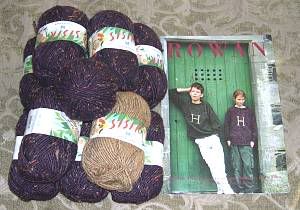 I am heading to the post office today with a couple of RAOK packages to send to some girls in the ring. It is exciting.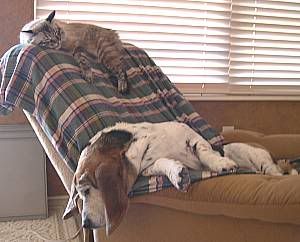 The kids are a little bored with my blog lately as you can see in this picture of Cosmo and Brandy. They feel there are not enough pictures of them being posted. I tried to explain to them that not everything is about them. After my explanation, this is what they looked like so I thought I would get back at them and take their picture. 8)