Finished Back onto the front of Weasley
The Weasley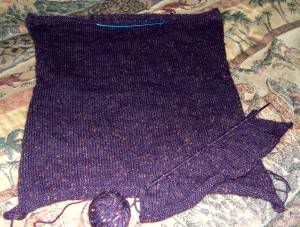 When I was finishing the back, I had some problems. I do not recommend knitting under the influence of muscle relaxers. I purled a whole row that I should have knitted and did not realize I was doing it until I was 3 stitches to the end of the row. This scares the heck out of me. I am not that skilled with ripping out and getting my needle back on with all the stitches facing the right way. The stitches are small and hard to see with the dark tweed yarn I am using. On the other hand, maybe it is my lighting; I could use better lighting to work under. Anyway I finally ripped it out and got the needle back on then I knitted a couple of rows and realized that I must have dropped a couple of stitches or something and had to rip out a couple of inches. How frustrating. I had one of those moments were I thought to myself It is not that noticeable and it is on the back maybe I should just leave it. But then I thought it must be done right besides I will always know if it is done wrong. I ripped it out and got the needle back on and finally finished the back correctly. Now I am working on the front. I need to get up to 30 cm then I can start the Intarsia H.
Library Book
I checked some knitting books out at the library. One of them is Hand Knits for the Home by Caroline Birkett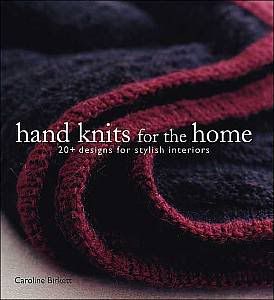 I have picked this up over a dozen times this weekend and looked through it. It is a great book. I think I would even recommend it for beginners to learn how to knit because it has great photos and how to sections for each of the stitches used in the patterns. There are only about 3 things I would not make in this book. All the other patterns I would love to make. There is great full-page photos of all the projects and easy to read patterns. I am definitely putting this on my list of must haves. Since I am such a book nut, I have developed certain criteria for buying knitting books. I must want to make several of the items in the book. I have bought books in the past that I did not really look though completely before buying. Once I got it home realized that it was not a great book and I probably would not get much use out of it. This Book Hand Knits for the Home is worth keeping and I am fortunate that I found it at the library and could live with it awhile to know that I want to have one of my own.
Yarn of the Month Club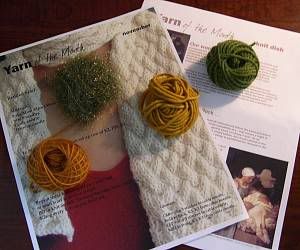 My November Yarn of the Month package came this weekend. I think the yarn samples are little bigger this time. In addition, I like three out of the four. The package came with a write up about wool & shearing your flock. The pattern this month is a Braided Scarf. The yarn samples are
1.Aurora Bulky by Karabella 100% Extrafine Merino Wool in color #27 ( this is my favorite of the four)
2. Misti Alpaca Worsted 100% Baby Alpaca in color 7238
3. Venezia by Lang 50% Mohair, 50% acrylic in color #011
4. Aura by Trendsetter 100% Nylon in color 8271 (My least favorite of the four)
The Renaissance Craft Fair
We had a great time at the fair. Lots of people dressed up for the time period. Here are some pictures of some of the people.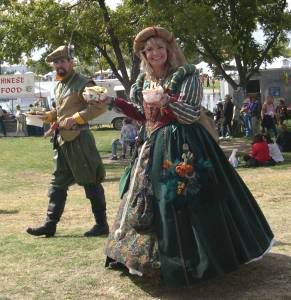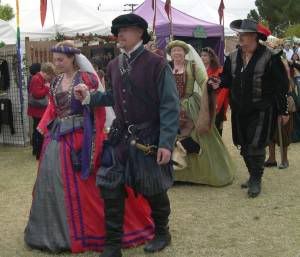 There were many artisans selling their wares. I picked up this hand soap dispenser from a pottery artisan.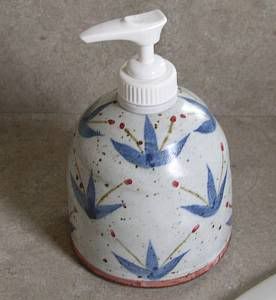 We also found this cool 3-D art to hang on the wall. It is of a Dentist office. How cute is that?
We just sat in the grass under a large tree and ate our lunch. This is the first time trying deep fried Oreos. It sounds strange but they were good. They were also selling rat on a stick. There was a note that said it was really chicken. There were no booths set up with knitting or yarn, but I did see two booths that did weaving. In addition, several that did quilting. I even saw work by someone that does landscape quilting. You can find out more about the Renaissance Craft Fair on the official website right
here
.
Classical Music
When I think of the Renaissance period I think of the beautiful gowns the woman wore. I also think about the awesome architecture. Lastly, I think of classical music. I must mention my absolute favorite classical piece. First, I will give you a little background. I played the French horn in grade school and the trumpet. I preferred the sound of the brass to the wood instruments. I preferred playing the French horn to the trumpet but it was not easier lugging the big thing on the school bus to bring home to practice. When I was in college I took a music appreciation class. This was a hard class. The exams were a blank sheet of paper and the professor would play a very small excerpt from a piece of music and we had to write down the title and the artist of what she played. Most of it was all classical so you would need to listen hard for what type of instruments were playing and she never played the most memorable part of the song. I really learned a lot about classical music and what I like and do not like.
My absolute favorite classical piece is by Vivaldi named the Four Seasons.
It is actually four pieces. It consists of Spring Summer, Autumn and Winter. Vivaldi is actually from the Baroque era (1600-1750) The Baroque Era was just after the Renaissance Period (1450-1600).If anyone says classical music is boring they have never heard Vivaldi's Four Seasons. When you listen you will feel it radiating through to your core. It makes you want to glide across the room in a ball gown, or leap across a meadow as the autumn leaves gentle tumble down kissing your cheek. Even now writing about it, the memory of it plays in my head and my heart races in pure excitement. Now that is music.
You can learn more about Vivaldi
here
at his home page.