The Creative Weasley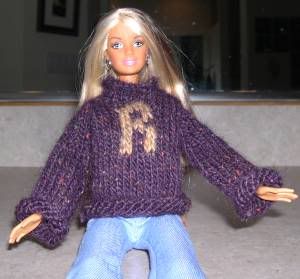 This weekend I was getting a little bored with knitting on my Weasley sweater. There is not many fancy stitches and I think I am more excited to get it done so I can wear it then I am excited about knitting the simple pattern. Therefore, I was inspired to make a miniature Weasley sweater for Rosey. I just kind of made up the pattern myself and it worked out luckily. It gives me an idea of how mine is going to come out. I really like the two colors together. Mine is still coming along still working on the back. If I could just not get distracted with other knitting adventures, I think I could get more done on it. I have a bunch of new knitting projects I would love to start. They are calling to me taunting me to start them. I am really turning into a selfish knitter. Here it is 9 weeks before Christmas and all the knitting on my list are things for me. Maybe next year or maybe I will do what I hear a lot of knitters do they pull an all knighter on Christmas Eve and whip out several scarf presents and socks for unexpecting family members. Enough about Christmas, let us talk about HALLOWEEN!
Favorite Halloween Movie
My favorite Halloween movie is Tim Burton's Nightmare before Christmas. Oops I brought up Christmas again. It is tradition in our house to watch it on All Hallows Eve. I never get tired of this movie. Tim Burton is a creative genius and I love his work. Some other movies that Tim Burton did that were awesomely picturesque are Beetle Juice, Batman, Edward Scissorhands, Batman Returns, Sleepy Hollow, and Big Fish. He is currently working on a remake of Charlie and the Chocolate Factory starring Johnny Depp as Willy Wonka.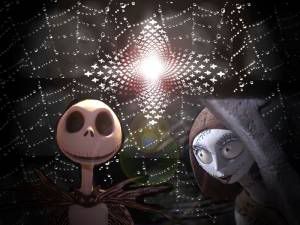 This time of year, I tend to skip around the house singing lyrics from the movie Nightmare before Christmas. Of course, I do not know all the words so I just sing the parts I remember like I will blurt out;
THIS IS HALLOWEEN; THIS IS HALLOWEEN, HALLOWEEN HALLOWEEN.
PUMPKINS SCREEM IN THE DEAD OF NIGHT
IN THIS TOWN WE CALL HOME
EVERYBODY HAIL TO THE PUMPKIN SONG
MAKING CHRISTMAS, MAKING CHRISTMAS, MAKING CHRISTMAS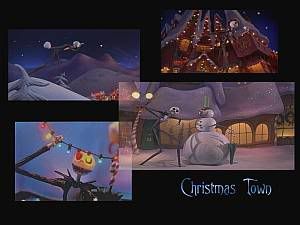 Here is a Nightmare before Christmas
fan site
. All Photos were taken from the screen savers available on this site.
Last Night my husband (Chris) and I watched a Halloween special on Home & Garden TV. It was called
Extreme Halloween
. It was an hour special showing different people that go all out for Halloween and decorate their homes like haunted houses and have great parties and such. This picture is of a woman that is a lunch lady by day and plans all year for Halloween.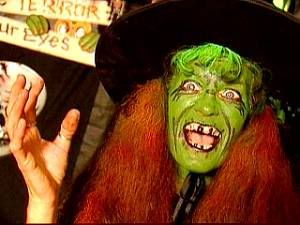 She turns her yard into a spooky place and people come from all around to see it. There were many stories like hers. The show will air again on Halloween. The show reminded me of my own early experiences with Halloween. Customs I had worn as a kid such as a clown, Raggedy Ann, Hobo, punk rocker, and a Bum.
One memory I will never forget is when my Dad dressed in black rags and put a big lump on his back. He had a metal bucket with a wooden spoon. He also wore a black ski cap and dirtied up his face. Once it was dark he hid behind the car and when the kids would come up the driveway he would hobble out banging his tin bucket and moaning all hunched over. The kids would take off screaming dropping their bag of candy running down the street. We did not know our Dad was doing this until after awhile we had been trick or treating and rumors started to circulate. Eventually we started to here about a crazy guy that escaped from the mental ward and was down near our house. I was like "THAT'S MY DAD! Parents had to bring their kids back to our house to show them that the scary guy was just a man dressed up to scare them. My dad was a little over the top with some of his ideas. That was the only year he tried that stunt.
There is a chill in the air early in the morning and Haley is very sensitive to cold weather. We have brought her sweatshirt out and put it on her in the morning until it warms up a bit. Here she is with her red sweat shirt.