Weekend Plans
I went shopping for plants. My local Garden Nursery is going out of business. This makes me sad because after they leave I will not have a place to find specialty plants. The good news is everything was 70% off. No joke 70% off. I also stopped at Home Depoe and Lowe's to see what they had. Here is what I came home with.
The trees were around $10 to $15. I would have grabbed more but most of them I could not lift and put in the back of the SUV. The first time I went through the line I do not think it really registered to me that everything was 70% off until I got the total. I put that stuff in the car and went back through for another load. I am tempted now to go back and load up again, but the place is such a mad house and there is no help available and getting through the line takes forever.
The trees I bought were a weeping mulberry, crabapple "Sping Snow", Desert Ironwood, and a Sumac "Scarlett".
I am real excited about the crabapple although the variety I got does not produce fruit it will have a beautiful white flower display in the spring. The Sumac I know is from the Poison Ivy family. I am not allergic to any of the plants in the poison Ivy family. I did hear once that you could become allergic to it. Anyway, I am planting that one near the neighbors I do not care for. The Desert Ironwood people use this wood for carving animal shapes and things. The wood carvings are suppose to bring you luck. Well maybe having the whole tree in my yard might bring lots of luck.
I bought two different types of honeysuckle vines. One is a Japanese variety. Some bushes I bought were Fire power Nandina and a dwarf burford Holly. I also bought two different creeping roses. One with a white flower and one with a pink flower. I also bought a dwarf fountain grass, two perennials I have no idea what they are but they have spikes of tangerine flowers. I also grabbed two six packs of some ornamental Kale and cabbage for some fall color in the garden.
Well that is one of the things I have planned for the weekend. Get all of those plants in the ground. Unfortunately, my husband does not share my enthusiasm for gardening and I will be doing it alone. I do not mind so much. The worst part is trying to find the irrigation pipes under the ground, I am usually pretty good at remembering where they are but some times, it takes several holes strategically dug to locate them.
On a Knitting Note
The UPS guy stopped by last night around 8:30pm. Can you believe how late they work? When the doorbell rang I was afraid it was a politician. I have had a couple of them just come right to my door and solicit themselves. Thank goodness is was the UPS guy. He dropped this off for me.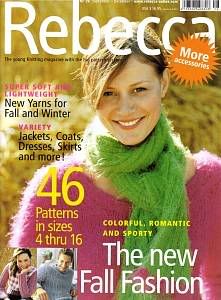 Yippee! It is the Rebecca #28 pattern book.
I ordered this thing about a month ago. I think it was on back order. It is the new edition that is written in English. The patterns are in centimeters but I am starting to get use to that. This edition has a ton of great patterns. Here is a couple I would like to make.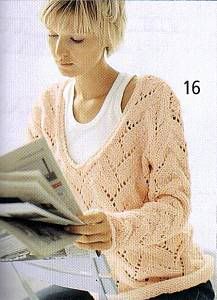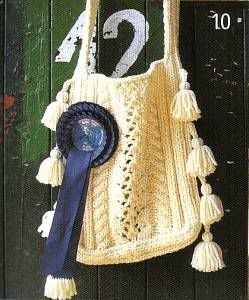 I Love this bag, I am not sure if I am skilled enough to make it but I will give it a try.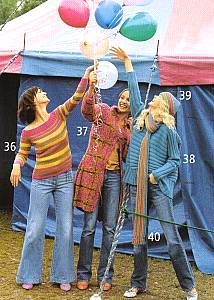 I like all three of these sweaters.
In addition, this weekend we will be driving to Ruidoso for their Oktoberfest. I cannot wait. Ruidoso is up in the mountains and I will be able to see all of the fall colors.