Home Sweet Home
Well we made it back from Vegas and lived to tell about it. We were only there a couple of days but one can cram a lot into a couple of days in Vegas.
What Happened in Vegas
We stayed at the Venetian due to the discount we got with the Dental Seminar. This resort is gorgeous. I wish I had taken more photos. Unfortunately, so much was going on at once I kind of lost myself in the moment and forgot to take pictures when I should have. Some times, it is best to just live in the now to soak it all up to get the full affect. I think that people that sit through a show with one eye in a video camera taping the whole event never really experiences the show completely. They have the video to watch over and over but the experience of the live show is lost forever. Anyway moving on.
Wednesday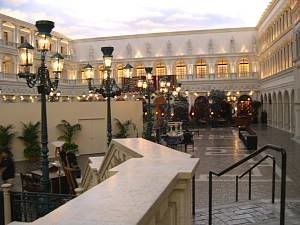 We got to the hotel a little after 3pm. The suite was awesome. We did not have a view of the strip. We did have a view of a golf course. It was nice to see some green. I changed out of my comfy travel close and into something a little nicer. We headed down to the casino to check it out. My husband brought a book on gambling and read up on playing craps. Once he finally got up the nerve to join a table he gave the dealer $100 for some chips to play. As he handed the bill to the dealer it was like slow motion in my mind as all the beautiful things I could buy with that $100 dollars flashed before my eyes.
Craps was complicated and I still have no idea what was going on and why one would be paid and one would loose their money. A guy rolls the dice and people would groan or clap and cheer and I followed suite. Chris was playing and seemed to know what he was doing. He one a large pay out where the dealer paid him $50 in chips. I quickly grabbed the $50 in chips and stuck them in my pocket. I told Chris that that way if we lost it all we still had half in my pocket. Secretly I planned to grab another big win and put it in my pocket so we would have the whole amount back. Unfortunately we only had small wins until eventually it was gone. That was the last time Chris played Craps.
We moved onto dinner and looked at all the restaurant menus throughout the hotel. We decided to have dinner at the Grand Lux Café.

It was more reasonably priced and the menu had a wide selection. Later I found out that the Grand Lux Café is owned by The Cheesecake Factory line of restaurants. I ordered a peach Martini and the oriental chicken salad. The salad was so good. After eating we walked around exploring the resort. Inside the canal shops there is one of those fake sky ceilings lit up in blue with fluffy clouds. It makes it seem like it is still day time. We were not fooled the first night. We headed back to the room to relax and were in bed by 10pm.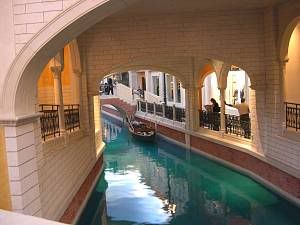 More to Come
Lots more of eating, shopping, walking, the dinner reservation, The Show, & much more.
I am pooped and have a ton of laundry to do. I Will post more soon.