Last but not Least
Friday in Vegas
I decided to walk to Caesars today and check out their shopping place. On my way there, I found Sephora.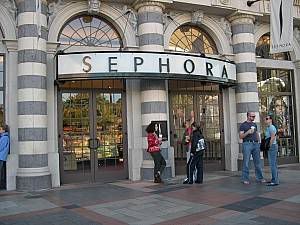 This is a beauty supply shop I thought was only on the internet. My girlfriend loves shopping on the net in this store. This place was huge. The good part is all the makeup you can try on while you are shopping. I am one of those people that stick with the same make-up that I have used for years and only change when they discontinue the color. Most of what I wear can be found at the drug store. I had fun walking around trying different shades of colors on. I did end up buying a lip-gloss. I also bought this.
Philosophy Holiday Rescue
It has a Double rich hot cocoa 3-in-1 shampoo and a Melting Marshmallow cream body Soufflé'. I must have been hungry at the time I bought it. While others are making someres by the fireside, I will be making them in the bathtub. 8)
Here is a picture of the Mirage. I passed it several times since I have been in Vegas.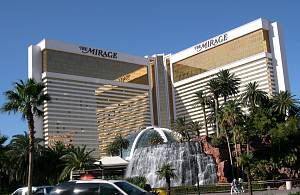 It has a whole jungle area that you walk by with waterfalls and such. There is a recording of a wild bird that calls out periodically. They do not turn the recording when it gets dark and it sounds a little odd to hear a bird at night in the trees.
Shopping at Caesars was an experience. You know all the brands advertised in the fashion magazines, well every one of them are at Caesars in their own little store. Here is a list of some of the shops they had: Louis Vuitton, Gianni Versace, Harry Winston, D&G, Dolce & Gabbana, Emporio Armani, Tommy Bahama, Burberry, Christian Dior, Coach, Fendi, Gucci, Kate Spade, Valentino, Tadashi, & Cache'. This place is a husbands worse nightmare. I was way out of my league. I did have fun walking in each of the shops and touching the merchandise. A person could have a heart attack looking at some of the price tags. Later on, I bought a Vogue magazine just to point out all the shops I personal was in.
I did find the perfect shop for me and is now my favorite shop. It is
Anthropologie
. I loved everything in the shop. It was so me. It had half the store with stuff for the home and the other half was clothing. The clothing was gorgeous. I would wear almost anything from this store. Also I would decorate my entire house with stuff from this store. Awsome! Awesome! Awesome!
I ended up buying two books from Anthropologie.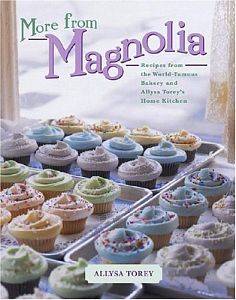 This one is titled "More from Magnolia Recipes from the World Famous Bakery" by Allysa Torey.
The first line in this cookbook says "a cupcake can change your life". That sold me. It has great recipes and I love to bake.
The second book is titled "Sweet Serendipity" by Stephen Bruce. This book has dessert recipes from the restaurant Serendipity in NY city. Did you ever see the movie Serendipity starring John Cusack & Kate Beckinsdale. In the movie the two main characters go to this place Serendipity and have dessert.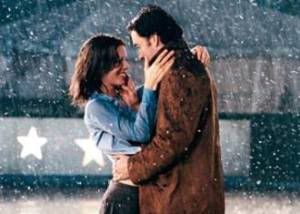 It is a cute movie. Of course, I have seen it. I love John Cusack. It is not just that. I love the word Serendipity. It means the phenomenon of making fortunate discoveries by accident. In the movie, the two meet by chance and he has love at first sight. She on the other hand believes in fate & destiny. She feels if they truly should be together, they will meet again someday. He does not even know her name.
The dessert restaurant is world famous and if I am ever in NY, I will definitely be stopping there. Until then I can make the recipes at home.
Eventually I was shopped out and walked back to the room to meet Chris. Once we met back up again we still had some time to kill before getting all dressed up for our dinner and show. We went down to the casino to do some more gambling. They had this big sports car lifted above some slot machines where one could play to win the car. We were trying to pick the best one to play when we realized someone had one the car a couple of minutes ago. CAN YOU BELIEVE IT! The couple was just sitting there while the people with the casino were giving them the paperwork to sign and telling them where to go pick up there car. That could have been us. Oh Well. We sat down and plugged some money in thinking we might still have a chance to win one too. We did pretty well. Chris one $20 in one spin. We got bored with gambling and went back to the room to change for dinner.
The Reservation
We made reservations at the Empress Court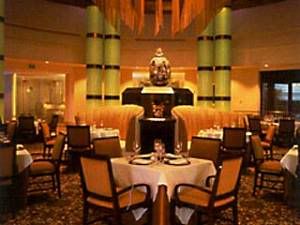 It was beautifully decorated. Chris ordered a bottle of Merlot for us and I ordered a Peach Martini. Here is a picture of my glasses on the white tablecloth with two dipping sauces the server placed before us.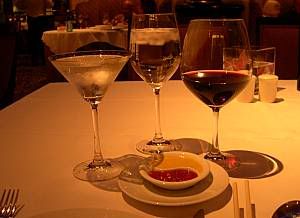 The Chinese server warned me about mixing my liquor. I told him I was Ok if I drank the Martini first then had the wine with dinner. The servers were great. There was a couple for each table. We ordered the meal thing for two people. This is when all the courses are picked out for you and you both get the same thing but you get to try a bunch of different things. Here was what we had:
Crispy Crab Claws
Minced Squab in Crystal wrap
Seafood wonton soup
Sautéed prawns, walnuts, fresh fruits, with Mayo
Stir-Fried Sirloin, Chicken with Oyster Sauce
Four Seasons Seafood Fried Rice
Mango Ice cream
Afterward Chris and I just sat, talked, and enjoyed the ambience of the room. Here is a picture we took of our selves just holding the camera at arms length.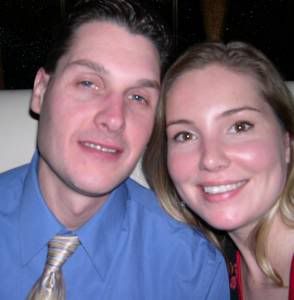 When we left the restaurant, we had some time to kill before the show. We sat down in the Terrazza Lounge.
I could not believe how sweet the Jazz was in this lounge. Whatever they were, being paid it was probably not enough. I strongly recommend this lounge if you enjoy jazz music.
The Show
My husband bought tickets for us to go and see Celine Dion's show at the new Caesars Coliseum. The Show is called "A New Day". We had great seats. The show was amazing. I sat by my husband and on my other side was someone else's husband whom was dragged to this show. Ha Ha Ha. There was only a couple of awkward moments where I was feeling the music and the two men were not. I did not sing out load though I was curtious in that way so as not to ruin the music with the sound of my voice. I just was not very still in my seat. 8)
Here are two pictures from the show.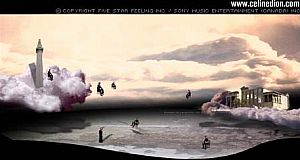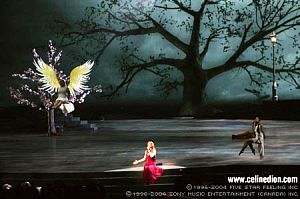 Even if there was no music it would have been beautiful to see. The show seemed to end so quickly. It was very good and well worth the price of the tickets. After the show everyone gravitated to the store outside called Celine. It was like when you get done with a concert everyone goes and buys a t-shirt and a CD. Well this was ten times worse. All ages cramed in a tiny store and were lining up to by all things Celine. I managed to grab this CD.
It is her new Christmas cd Titled "These are Special Times"
All good things must end.
That will wrap up my adventures in Las Vegas. Not much else happened after that. We flew home the next day.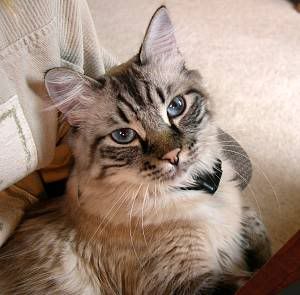 This is a picture of Cosmo on my lap while I am on the computer. He has been hanging pretty close since I have been back. He is such a sweetie pie. The girls had a great report card from the ranch. They slept for several days when they got home. They played their little hearts out.