Luck Be a Lady
Now where was I?
Oh Yes! Thursday
I am not sure why I laid down to sleep Wednesday night although I was very tired I did not get much sleep. The bed was soft and all but the pillow was just too squishy. All night I kept checking the clock it is only 2am, it is only 3am, will this night never end. Also saying to my self I hate this bed and loath this pillow. Oh, well what can you do? Finally, Chris got out of bed at 5:45am and went to look out the curtain. I quickly turned on the lights and asked if we could get up now. I told him I did not get any sleep and he suggested the next night to wrap a towel inside the pillowcase with the pillow to make it firmer and bigger. That is my man always coming up with good ideas. Now why did I not think of that last night?
We showered and got ready for the day. Chris had to be at the seminar at 7am to check in. I planned to walk around the canal shops before lunch. I took my time and left the room about 7:30 to go find some breakfast. I planned to go to a tea place I saw last night. They supposedly had over 40 different teas and different drinks. When I got to the place I could not figure out the menu. I was the only one there so I took my time looking. I could not find a list of the teas; I just saw different coffees listed kind of like starbucks. All of a sudden, a group of people came and apparently, there was a place for a line and I was not in it. Ever have one of those moments where everyone else knows what is going on and you do not? Instead of getting inline behind the 8 people that just came in after me I opted to find a different place for breakfast.
I hit a magazine shop and grabbed a Vanity Fair with Leonardo Dicaprio on the cover. I do not think I have ever read this magazine before. When I am on vacation I like to read ones that are different from my usual reading mags just to see if I am missing something. I found a food court and ordered a bagel and a mocha. Sat down and ate and read the magazine. I tried to take my time because I thought it was a little early to start shopping. Once I was done I walked through the canal shops. The shops were closed. Bummer! I asked one of the guards what time they opened and he said 10am. I still had over an hour before 10. I decided to check out the casino. I walked around and finally found some slot machines that were 5 cents. I put a $20 in and spun the wheel twice. I did not like that machine so I cashed out. About 5 nickels fell then the buzzer started to ring and the light was flashing, the machine did not have enough coins to cash me out. HOW IMBARRASSING! I had to sit and wait for the tendent to come and put coins in the machine to pay out my measly amount of change. I apologized and she said it was OK. Now I had my bucked of nickels and moved on to other machines no such luck. But I did manage to stretch the play time out until it was time to go shopping.
Here is a card I picked up at one of the shops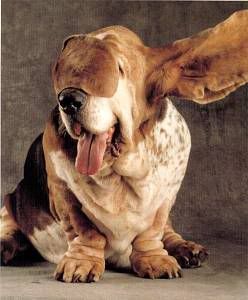 I collect cards. Many I buy for myself because I like the artwork or the picture. Sometimes I put them in frames and put them out as decoration. I liked this one because it portrays Brandy's personality. Most people think Bassett Hounds just lay around all the time, but they don't. She is a nut and this picture looks like her when she is having a good time. Some dogs live to please their masters, but not Brandy she lives to please herself.
There were many shops at the Venetian. Some of the shops were Banana Republic, bebe, Burberry, Cache, Kenneth Cole, Lior, Brighton, & Dooney & Bourke. There were many more. I did walk into Jimmy Choo. Just to look at the prices. Unbelievable. I thought about trying on a pair just to take a picture. But I chickened out. I thought it might be tacky since I was wearing socks and I would need to take them off and what if I had sock lint. Trying on $800 sandals with sock lint did not appeal to me. I think secretly I did not want to try them on because I would hate it if I actually liked them.
I did find some things in Ann Taylor. I gravitated towards the sale rack. I bought two shirts like this one.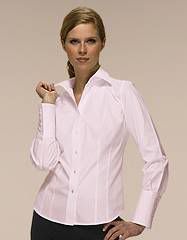 A white one with mauve pin stripping, & a solid burgundy one. Both were a great price and fit well.
I met Chris for lunch around 12pm. We met at the food court. We each got a slice of pizza. He talked about the seminar and how he was learning a lot about pediatric dentistry. He also talked with another dentist whom has a practice in the Grand Cayman Islands. Wow how cool is that. In order to have a dental practice in the islands you need to be sponsored by another dentist currently living on the island. Basically once a dentist retires he will sponsor a new dentist to buy and take over his practice. I told Chris to give the guy our number. 8) Hey you never know. What would you do if you got a call in 10 to 15 years asking if you want to live and work in the Grand Caymans for awhile. You would say my bags are packed and I am ready to go. A girl can dream. Chris is a little on the shy side so I do not think he took my advice and give the guy our phone number.
After lunch, Chris went back to the seminar and I went to the Guggenheim Hermitage Museum. The current showing was called The pursuit of Pleasure. The paintings and images explored leisure in Western art from the sixteenth century to the early twentieth century. They were showing original paintings from many artists some famous names are Michelangelo Merisi da Caravaggio, Vincent van Gogh, & Pablo Picasso.
Here are the two paintings I liked the best out of what they were showing at the museum.
This one is named "A Game of Billiards" and is by the artist Louis Leopold Boilly. It is Oil on Canvas painted in 1807. I like how casual and comfortable it looks. I like how the dogs are around just like they would be at our house. In addition, I like the fact that the women are playing pool along with the men. The mood is comfortable and not stuffy.
This one is named "Winter Landscape" and is painted by Hendrick Avercamp. It is Oil on Canvas painted in 1605. I like how the trees are portrayed in this painting. Although it is winter and they have no leaves, the trees still look fat and jolly. I also like the subtle colors of the painting. I normally am drawn to vibrant colors but the subtleness of these colors makes me feel comforted and gives a homey feel.
After the museum, I was feeling rather, tired so I went back to the room to relax. I lay out on the couch in the suite and realized that it was much more comfortable than the bed. In addition, it had great throw pillows. I thought I might use one tonight to sleep on. Chris was not due out of the seminar for a while so I watched some TV. First, I watched Dr. Phil. What a group of loosers on that show. There was a man that had an affair with a coworker and got her pregnant. He currently wanted to keep both women. Do not get me started. If I were his wife, I would have kicked him to the curb the minute I found out about the affair. After that, I watched Oprah. Big mistake, her show was on tragic stories. I was crying my eyes out. Chris met me in the room after his seminar let out. He took one look at me crying and asked what happened to YOU? I told him Oprah was very sad today.
Chris and I decided to go to the Paris resort to check out their French Buffet for dinner. We had heard good things about it and thought it would be a nice walk to go check it out. I told Chris I should have brought more comfortable shoes because all the walking was making my feet hurt. We decided to go down to the shops and look for a more comfortable pair of shoes for me. We went into a store called footworks. I found this pair of Josef Seibel Mary Janes.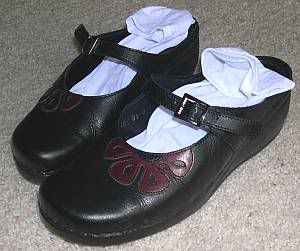 I had never worn or tried this brand before. When I tried it on it felt like a slipper it was so comfortable. My feet were smiling. I love these shoes, and pretty much have worn them every day since I have been back home from Vegas. If you are on your feet a lot I would recommend getting a pair, your feet will thank you.
Once my feet were happy we started to walk the strip towards Paris. This is what it looks like from the outside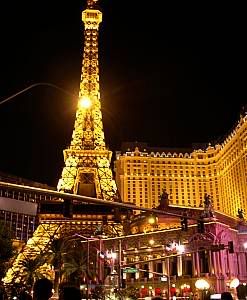 We went inside and found
Le Village Buffet
. It was real cool looking. It reminded Chris and I of Disney World. We were inside and yet it looked like we were outside due to the way they made the walls look like they were outdoor shops. That probably does not make since. Here are some pictures I took while sitting inside at our table at Le Village Buffet.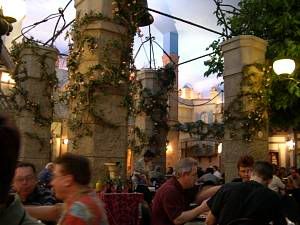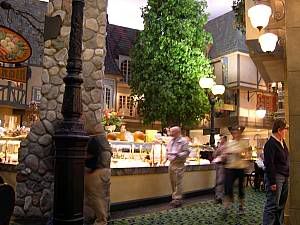 This was the best buffet I have ever been to. Here is a picture of one of my plate full of food.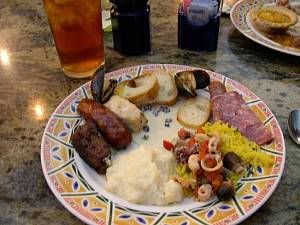 I say it is the best because I never made it to all the counters because of the abundance of tasty choices. Everything I tried was great. I started with the Lobster Bisque, it was so good I had to eat the whole bowl. I filled my plate a couple times and was about to bust and knew I would not be able to go for more and ended with a chocolate mousse.
After dinner, Chris and I waddled out of the restaurant and looked around Paris. There was a shop that was all Queen Stuff (the rock band). It said on the outside WE WILL ROCK YOU! Inside I found a t-shirt that I thought was cool. It said NO TIME FOR LOOSERS. You know like the song. If the shirt did not look like a teeny bopper top I might of bought it. Here is a picture of the bathroom sign in Paris. Does anyone else take pictures of cool bathroom signs?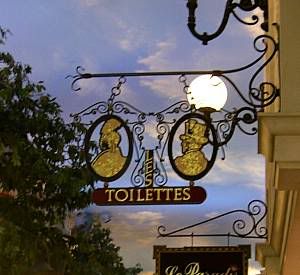 Here is a pictures in the Lobby of Paris.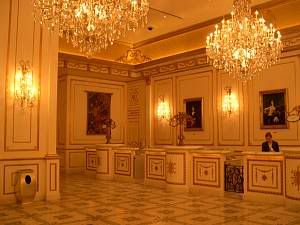 Fancy Smanshy
We left Paris and started to walk back to our hotel. We walked by the Bellagio hotel and decided to wait for the
water fountain show
they put on every 15 minutes. While we were waiting a woman started a conversation with us. She asked us if we would like her to take our picture. I set the camera up and told her to push the button. She took about 4 pictures and none of them came out. 3 were blurry blobs and the fourth I was cut out and it was a blurry blob of Chris. Why would someone offer to take a picture out of the blue and do not even know how to take a picture. Why tease us like that. I did take pictures of the water show. Here is one of them.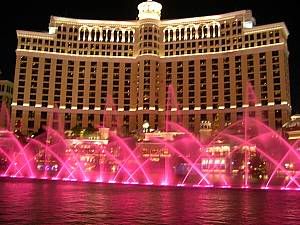 They played Con Te Partiro (Time to Say Goodbye) by artist Andrea Bocelli & Sarah Brightman, Composer F. Sartori, L Quarantotto Year 1996 length 4:04
It was very moving. Andrea Bocelli is one of those opera singers that can move me to tears. The man is very gifted.
Well I had better rap this up and I will finish my experiences in Vegas in my next post. Still to come more shopping, a fine dinning experience and the Show we went to see.