Looking for Some Feedback
Weasley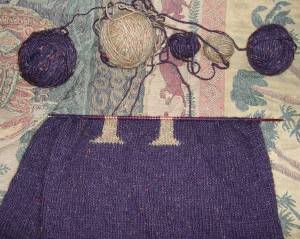 I worked on the Weasley this weekend. I am 1/4th through the intarsia H. First I started doing the H the Fair Isle way with just one ball of the main color and one ball of the H color. I just weaved the color I was not using through the whole row and pulled it forward when I needed it. After four rows into the chart, I thought it was looking a little too loose in the back so I tried to tighten it loop by loop. That resulted in a mess I could not fix. Therefore, I ripped out those four rows and started over another way. I just started a new ball of yarn each time I changed colors the first row. Making sure, I wrap the old strand around the new color for the first stitch every time I start the next color. Does that make any sense? Anyway, it is working out nicely and I just need to make sure to untangle the five balls of yarn I am using at the end of each row.
Am I the only One?

Does anyone else walk around and suddenly you start changing the words to a song adding knitting in the mix. Like:
If you're Happy and you know it, knit a sweater
If you're Happy and you know it, knit a sweater
If you're happy and you know it, then your knitting will Shirley show it
If you're happy and you know it, knit a sweater
Or
A knitting we will go, A knitting we will go, Hi Ho the merry O a knitting we will go.
What is wrong with me? I do not even have any kids and these songs pop in my head.
Thanksgiving Decorations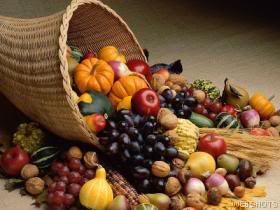 My favorite symbol for Thanksgiving is the Cornucopia. Otherwise known as The Horn of Plenty. The Columbia Encyclopedia states the Cornucopia, in Greek mythology, magnificent horn that filled itself with whatever meat or drink its owner requested. Some legends designate it as a horn of the river god Achelous, others as a horn of the goat Amalthaea. It is often represented as filled with fruits and flowers and has become the symbol of plenty.
For me the Cornucopia means an abundance of good fortune and an abundance of things to be grateful for. It also represents so many things to me. Like the fact that you fill it so full of stuff that it spills out the top and around the sides. It in away breaks all the rules. Like how you are taught to color inside the lines. Keep things neat and tidy. The cornucopia is beautiful in its abundant disarray.
I think it is a perfect centerpiece for the Thanksgiving Holidays.
Here are some ideas
Cornucopia made out of bread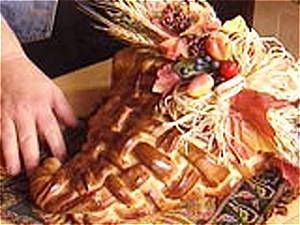 This one is from DIYnetwork and the instructions are
here
This one is from Pastrywiz and the instructions are
here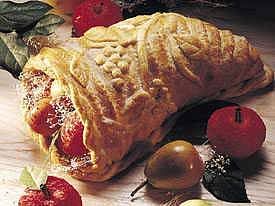 My favorite idea is probably this one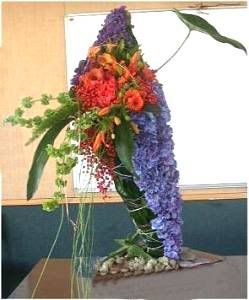 It is a fresh flower Cornucopia designed by David Booth. He gave a workshop on how to make these and you can find out more
here
.
I think I would scale it down small enough to fit in the center of the table. I also would lay it on its side the traditional way. I would also choose fresh flowers in autumn colors.
The thing that is so great about the Cornucopia is you can get creative. There is no standard for which material must be used. Pretty much anything goes. It can be made out of whatever you wish and filled with whatever you desire.
Thank You
I would like to give a shout out to some wonderful Blogs that have a link to my Blog. I am very proud to be listed on each of these and am a frequent reader to all of them.
Hubby, Daddy, Coder, Gamer
Knittikins
Little Purl of the Orient
Lollyknitting Around
Pieces of Life
Princess Papaya Knits
Richardson Zoo
Tangled Threads and Seaweed
Ttbookjunkie knits
Whatever!
I would also like to thank my frequent commentors. Yes, I am talking to you Lisa from knittikins, Lauren from Lollyknitting Around, & Laura from Pieces of Life. I look forward to your comments. THANK YOU
I Would Like some Feedback
I know from my site meter there are many people out there reading my blog, or at least taking a peek. If you could take a minute to give me some feedback on what you think, I would appreciate it. You can always use anonymous to leave a comment if you are shy. It is OK with me.
What do you like about my Blog? What do you dislike?
What things would you like to see more of? What would you rather see less of?
Am I too much or not enough?
I already know I cannot spell so do not bring that one up. 8)
Please feel free to drop me a comment. I read all the comments and appreciate the time you took to write them. THANK YOU!