Sweet Tooth
I have a sweet tooth. Or shall I say many sweet teeth, or how about go ahead and shovel the sugar my way please. Luckily I married a man whom shares my joy of candy and sweets. Both of us have memories as kids spending our allowance at the local corner store on candy. Lots of candy. It seemed like there was more candy back then. Or maybe now that I am bigger the candy aisle just looks smaller.
Anyway hubby and I went to lunch at the Crackle Barrel last weekend. They have an old time store there that has many candy choices you might remember as a kid. Here is what we got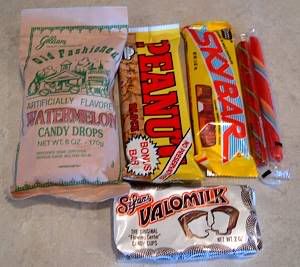 Chris chose the Valomilk cups, peanut block & sky bar. I chose the Watermelon candy drops, and two candy sticks in flavors passion fruit, and strawberry.
I love chocolate but when I pick out special candy I tend to always go for the hard candy. A little piece of hard candy lasts a long time. One piece will due just fine to sweeten your day. Usually chocolate no matter how big or small only lasts me a couple of seconds and I always wish I had more. But hard candy lasts a long time and is very satisfying.
Next up on the Knitting Agenda
Once I finished my Weasley sweater I was so excited about starting a new knitted project. So many options, so many things I plan to make this year. I decided that I would work on a couple of smaller things that do not take so long to finish. The sweater took me over four months. I think I will wait a little while before starting another time consuming project like a knitted sweater.
I dove into my stash and decided to try my hand at knitting a hat.
I started the Coronet pattern from Knitty.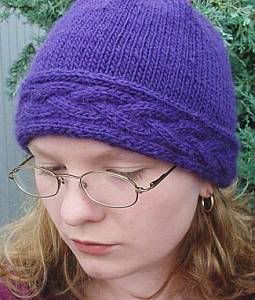 You can find the pattern
here
.
I am using Lambs Pride 85% wool/15% Mohair in color M-29 Jack's Plum
Here is my progress so far.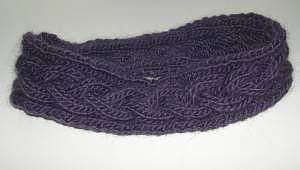 I finished the cabled strip and attached it end to end. Now I need to pick up the stitches around the edge. I really love working with this yarn. It feels weird to switch form a lighter yarn to a more heavy yarn. It knits up so much easier. Plus I can clearly see the stitches. Also while making the cable strip one came out a little long and it was so easy ripping it down a couple of rows and putting the stitches back on the needles. I will definitely use this cable pattern again. I might use it for the handle on my Hello Kitty bag I have not started yet.