Good Deed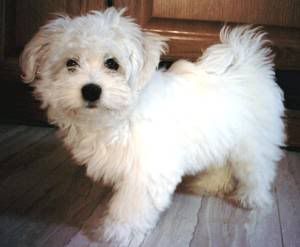 Webshots photo of a maltese
While I was out running errands for the business I did my good deed for the week. I was leaving the post office and was about to get back into my car when I spotted a run away dog. He was a white Maltese, and he was running full speed down the road. I noticed he was dragging his leash. I had a moment where I was not sure if I should chase after him, but then I knew I had to because if I did not I would have worried about what happened to him the rest of the day. So I got in my car and quickly went down the road after him. I pulled over and jumped out but by the time I got out of the car he had already run another two blocks. So I jumped back in the car and sped up closer to him and he turned down a street. I jumped out of my car again and tried calling to him. Finally he turned around and came up to me.
Unfortunately he had no tag. There was a man standing outside his home. I asked if he had seen this dog before he said no. I looked at the little pooch and I said looks like your coming with me. I told the dog you better go potty before I let you into my car. The dog instantly lifted his leg and went tinkle. Smart Dog. The dog got into my car and made himself at home, like he had been doing it for years.
I was a little worried about taking the dog back to the office, but I had no choice my house was 70 miles away. I brought him in my office and Chris was sitting in there. I told him we have a situation. I found a dog. Chris being a dentist he immediately spotted the dog had a little bit of blood near its mouth. He checked him out and the dog appeared OK. There was a small cut on his leg. The dog made himself at home in my office. Such a cutie. Mentally I had already decided I was going to keep him. In a short period of time I had fallen in love with this lump of fur with a bit of mud smudge on his face.
I decided to take him to a vet to get checked out and possibly get a bath. I am not that familiar with the area so I asked some of the employees where a good vet was. So me and my new love went for a ride to the vet. I pulled up to the vet and took him inside. I walked up to the lady that was on the phone and said I found this dog and he has a cut on his leg. The lady behind the desk said "you are not going to believe this but I have the owner of the dog on the phone right now." WHAT! Can you imagine? The owner was an elderly lady and the dog had jumped out of the car window. I am sure the owner was broken hearted for loosing such a great dog. The owner was calling around to all the vets to tell them she lost her dog. So I had to say good buy to my little buddy and leave him at the vet for his owner to come and get him. I am happy for them both I know if I had lost one of my babies I would hope someone would pick them up and do the right thing.
I sadly went back to the office. It all worked out for the best I really don't need the added stress of bringing home a new dog. My good deed is done.
Yarn Info
I received some e-mails requesting info on the yarn I used for the Harry Potter Sweater.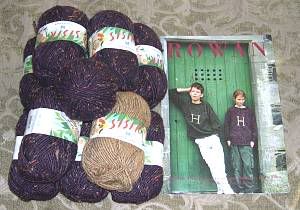 I used Sisik Tweed in color Aubergine. The letter H was done in color camel. The pattern was a Rown pattern named "the Harry Potter Sweater". I don't believe they sell it anymore. I tried to look for it again and can't seem to find it.