Hello Kitty and Thoughts of Home
I am making the Hello Kitty Handbag in the HK Knit-along. I picked up the yarn I will use for the pattern. Bernat Softee baby in colors white & pink. Also Red Heart Soft Baby in color Pinkie.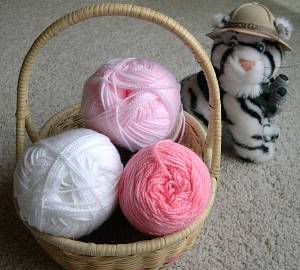 Here is the intarsia motif for the bag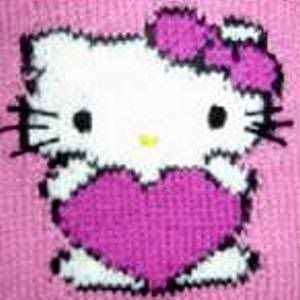 It will be a real cute fun summer handbag. After all I still am a girly girl when you get down to it. I am not afraid of pinks, flowers, lace or frills. Men are afraid of these things, or at least curious at a distance. They do not call it girl power for nothing. 8)
Thank You

I wanted to give a shout out to my MIL & Step Mom. I know they read my blog. Thank you so much for the Anthropologie gift certificate I got for Christmas. I finally narrowed down my list on the site and spent my gift card. I received the package this week.
Here is what I got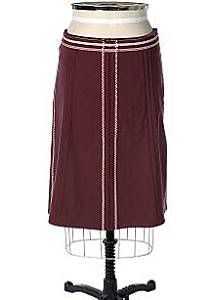 Elena a-line skirt
I LOVE this skirt. It fits great. It is super special; the picture does not do it justice.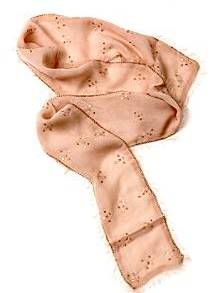 Sequin sash
This sash was a must have. I found it in the sale bin. I plan to use it as a belt. SWEEET!
Thoughts of Home
Lately I have been trying to get use to spending lots of time away from my home. Now that we are running our own business, I think this is the hardest thing for me to get use to. My home means so much to me. I am not talking about the actual building or the rooms inside. I am talking about the feeling of home. You know that feeling you get when you have had a long day at the office and you pull up to your drive way. Once you walk inside your home and that feeling that wraps around you like a warm blanket. Sigh of relief followed by "I am Home".
I thought I would share some art that portray Homes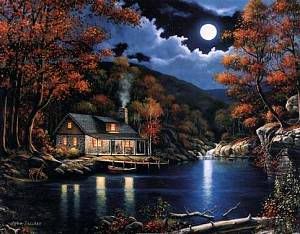 Rural Country sides III by John Zacceo
This feels to me like a fantasy. The house is nestled in a perfect out of reach environment. I am drawn to the warmth inside the house. The lights are so bright flowing out of the windows it looks almost to be on fire. The water at night time appeals to me. I often have dreams of swimming at night time. If I lived in this house I would take many a midnight dips in the water under the moon light.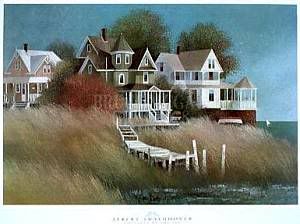 Cottages by the Sea by Albert Swayhoover
This feels to me like a retirement home. Or at least what type of home I hope to have when I retire. I long to have a home on water front property. Preferably a lake to the ocean but I will take whatever I end up with. These houses make me think about sitting inside them looking out the windows. The view one has looking out their windows can shape your life. People whom have views of the ocean or mountains I feel have thoughts of endless life possibilities.
Late Snow at Riverwood by Bob Timberlake
This feels to me like a memory straight out of my childhood home. I was born in Upstate NY. When I look at this painting I am instantly transported back to the age of 5. Back then how one entertained themselves was to go outside and play. This was my toy box. My feeling of home encompassed a large area. I could spend hours walking around exploring nature. The quietness is so calming and very comforting. As a child I was a tree climber. Always on the look out for large trees with big branches to perch my self on to watch the world with a birds eye view. The key to a good tree is to have several large branches and a few smaller branches low to the ground making it easier to get up into the tree.
Back to Knitting
Now to get off the computer and get back to my knitting. I will be blocking the Weasley pieces and sewing the seams. I will post progress in my next post.