Six Bags Full
Hello Kitty Progress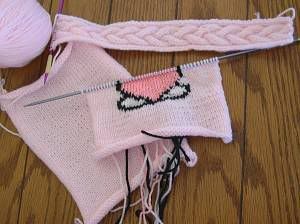 I have started the front of the Hello Kitty hand bag. Can you tell those are little kitty feet and the bottom of a heart starting to appear. I decided I am going to change the pattern a little and I plan to make a cable handle for the bag. Also I am thinking of changing the motif design just a little. In the pattern Hello Kitty has a bow in her hair. I am thinking of changing it to a flower instead. Individuality is the spice of life my friends. I have got to be me. (My husband rolls his eyes).
Six Bags Full
This week I interviewed a couple of candidates for a position at our dental practice. One interview I had must have been the most enjoyable interview I have ever had, and that is both ways whether I was the interviewee or the one being interviewed. The lady tells me she has a little sheep farm. I immediately asked her if she knits. She said no. We got to talking about her sheep and then she says "I have six bags full of wool and I can't figure out how to get rid of it." That just sounded like crazy talk to me. I told her there is a ton of knitters out there and some of them like to spin their own yarn. I also told her about a website that I have seen were you can adopt a sheep for a year and then you get the wool at the end of that time period once the sheep is shaved. I also told her eBay might be a good idea also. Crazy talk, don't know what to do with the wool. Gees, can you imagine?
Anyway we had a great talk. Unfortunately there was not much talk about the actual position I was hiring for. I also decided it would be selfish of me to hire her and should hire the best person for the job. I feel like sending her a letter saying I am sorry you are not the right person for the job but I was wondering can I come over to your house and visit with your sheep. 8)
Sheep Art

I think that if I am ever able to have a room in my house devoted to my crafts, I plan to put up a painting of sheep. Kind of a salute to knitting.
Here are some I have found.
Holidays in Switzerland by Donald Brun
How cute is that. That little guy is having way too much fun. When I look at this one I feel like playing hooky from work.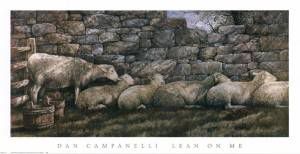 Lean on Me by Dan Campanelli
This one makes me feel like jumping in the middle and taking a nap. The colors are very calming.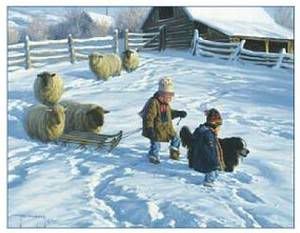 The Sledding Party by Robert Duncan
Look at those fat biddies. They look so plump and warm. When I look at this picture I can almost hear the sheep talking to each other. "I want to ride first" "No I am going first, you went first last time."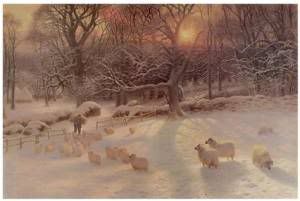 Shortening Winter Days by Joseph Farquharson
This is my favorite out of the four. The lighting and the shadows are just perfect. I love the details of the trees covered in snow.