Finally Friday
This is Mattie.
Mattie is technically my Husband's sister, but Brandy & Haley just think of her as a cousin.
Here she is with her big sister Deja.
How cute are these two ladies, sitting so good for the photo.
Mattie just celebrated her first birthday on the 23rd. Here she is enjoying her special birthday cake shaped like a dog bone.
My Secret Pal
My secret pal is a mind reader. First let me show you what I received yesterday in the mail.
WOW! Take a look at my LOOT! I can not tell you how excited I was to pull this out of the mail box. I knew last week that my Secret Pal had sent a package, so all this week I have been anticipating it and every time I have gone to the mail box and nothing was there. I would just say maybe tomorrow. So when I opened my mailbox and there was a key for one of the larger mailboxes to open I was excited. I was grinning ear to ear by the time I got back into the car with my husband and my package. Hubby said there was a guy also getting his mail and he was laughing at me at how happy I was to get my package. Enough with the small talk drive BOY! Our house is about a half mile from the mailbox.
I opened my box to find 2 skeins of Cotton Fleece in color putty, 2 skeins of Lace Weight Mohair, A fiber Trends Pattern for three different patterned lace scarfs, a cute little oriental print zipper bag chuck full of little Hershey bars, & a perfect little blue handbag.
I absolutely love everything. I am totally intrigued with the two little Lace Weight Mohair skeins. I have never seen anything like them. There is actually 500 yds on each of these little puppies. I LOVE the little blue hand bag. I was walking around the house with it last night. Hubby asked me what I was doing. I replied "NOTHING". He would not understand if I explained it to him. You know how it is when you get a new bag you walk around with it testing how it feels and looks while you're carrying it. Or maybe I am alone on that.
Anyway back to the fact that my secret pal is a mind reader. I also received another package yesterday. From my new addiction shopping place. Amazon.com.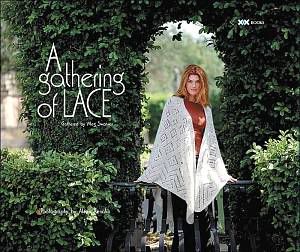 This is titled A Gathering of Lace by Meg Swansen. The book finally came out in a paperback version and more economically priced. I am a little intimidated by lace knitting. I love how it looks. I thought by getting a book just on lace knitting it would help me to learn how to do it correctly. The book looks good. I flipped through it last night. It has about 41 different patterns that included lots of shawls, shrugs, vests, sweaters, socks, hats, handbag, & a couple of other things. Some of the things look impossible to make, they just look so intricate. The way the book reads it makes me feel like I can make every thing in the book. The book starts with a simple beginner triangle shawl. All the patterns are rated to let you know what level of knitting the pattern is done. I am pleased with the book.
I am so excited to get started learning how to knit lace. Thanks to my secret pal I can get started right away.
I can not wait for the big reveal at the end of the month and find out who my secret pal is. This has been so much fun. I am sad that it is almost over.
Progress on Rowan "Air" Cardi
Here is where I am at on my Rowan Air Cardi. This is the back. It is working up nicely. I need to make it to 33cm then I can start shaping the arm holes. I am at about 22cm now.
I was RAOKed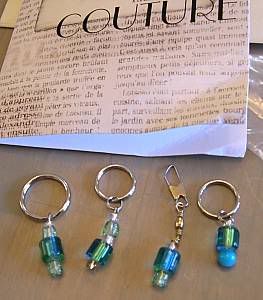 I received a card from Cindy this week She send me some lovely stitch markers. Great colors. I love how they are all different size loops at the top to fit different size needles. Thank You so much Cindy. You can check out her blog over at
Sauvageblue
.
Weekend Plans
This weekend I plan to do a lot of sewing & knitting. Also I need to go shopping to find something for my mom for Mothers Day. Today we are taking our employees out to lunch. This week was administrative professionals' day, so we thought we would show our appreciation for them by taking them all out for lunch. Should be interesting. This will be the first time my husband and I will be spending time outside of the work environment with our employees. I have my fingers crossed that it goes well.