Playing Catch-Up
Warning
this is a long Post. I think I am behind in my posting due to the computer problems and my birthday. So hopefully I will be able to catch up with this post.
What is Up with the Computer
The whole computer glitch started when Hubby decided to upgrade his computer. His birthday was on the 17th and since besides watching movies his only hobby is playing on his computer he decided it was time to upgrade. He usually just buys the stuff and installs them himself. The cool thing about when he upgrades is that I get all the stuff that he takes out of his computer which is an upgrade for me.
So he gets all the new stuff into his computer and starts it up and it works like a dream. Then he takes mine apart and takes out the stuff and replaces them with his things, gets it all put back together and plugs it in. Nothing. The darn thing never started up. So he takes it apart and moves things around and puts it back together. This goes on several more times and still nothing.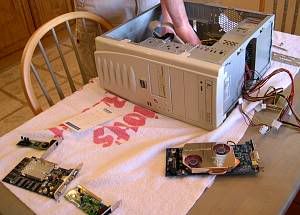 Here he is with my computer guts laid out on the table performing surgery trying to bring it back to life. Finally he realized the Pentium processor chip had come unattached and he did not know it because it was under the fan. So he puts everything back together and plugs it in and finally it reboots. The only problem at this point is I can't get onto the internet. I share my husband's internet connection using a router and a cordless device that attaches to my computer.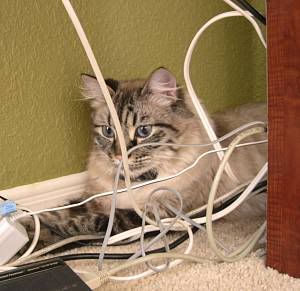 As you can see by Cosmo's expression after assessing the computer situation he believes there is no way this is ever going to work. Hubby gives up trying and decides to order two new Ethernet bridges one for each of our computers to connect us to the router. So I had to wait for those to come in the mail. Finally they arrived and they were very simple just plug the bridge into the wall outlet and then attach the cable from the plug to my computer. The second bridge goes into an outlet with attached cable from the router to the bridge. I started getting the internet but it was not consistent. It would disconnect frequently and had no rhyme or reason. I ran a Norton scan to check for viruses and had none. My hard drive had some kind of glitch. With a last ditch effort I decided to reformat my Hard drive. That sucks, because everything you have stored on it will be wiped out. So I spent some time burning some cd's saving all my photos and documents that I did not want to loose.
My computer is working great now. After all of that I am still glad for the upgrade. The graphics card is way better than the one I had and also I have more memory now and my computer is a lot faster.
Onto My Birthday
Thank you so much for all your birthday wishes. You guys are the BEST!
The restaurant
I chose P.F. Chang's for my birthday meal. The restaurant is located in Texas about 45 miles away. It is a real cool Chinese restaurant.
Here is a picture of the giant horse statue out front of the restaurant.
We ordered the crab wontons served with a spicy plum sauce for an appetizer. I ordered some organic green tea.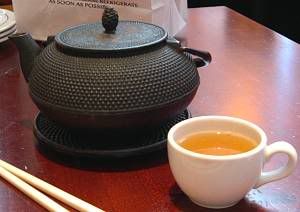 It came in a little tea pot that was set on the table with two small cups.
For the meal we shared an order of Shrimp with Lobster sauce, Moo Goo Gai Pan, & some Mango Chicken. Both ordered white rice. All dishes were tasty. Then for the grand finally we ordered dessert.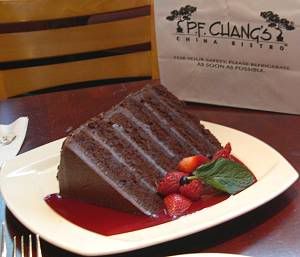 This is called The Great Wall of Chocolate. So GOOD! I am actually still eating this piece of cake. It was made with six layers of chocolate cake, and served with a raspberry sauce. Then I opened my fortune cookie and my fortune read: "Pleasure awaits your Company". I thought that was an odd fortune. Considering I just had a pleasurable time eating the chocolate cake. Too broad I need more specifics.
The Cards

I love cards especially the ones with great artwork or photos on them. Here are two of my favorites I received for my birthday.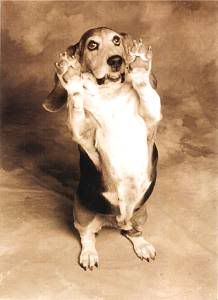 This one was from my MIL & Step Mom. Inside it says "Wishing you a pawsitively fabulous Birthday". Our Bassett hound Brandy often sits up like this on her two back feet. It just cracks me up.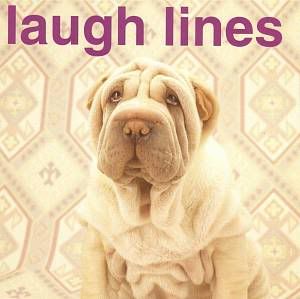 This card I received from one of my employees. I love the soft tones and the expression on the sharpei's face. "Laugh Lines" So Cute.
The Gifts
Tinker Bell Garden Clogs.
These are perfect I was in need of some new ones. My old ones both feet have holes in the bottom from where I put my foot on the shovel to push it into the ground. I will be styling in my new clogs.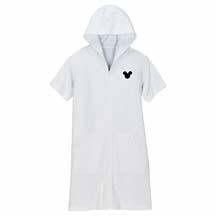 Mickey Mouse Terry Hooded Cover-Up.
This will be great for wearing over a bathing suite or bumming around the house this summer.
Rowan International Subscription
Hubby got me this subscription to Rowan Knitting Magazine. I already received the welcome package. It included mag # 37, a pattern for a poncho with 4 skeins of Rowan Cork in a black color. The membership is pretty cool. On their website they have free patterns monthly and you have access to their archives for the past patterns. Overall I am pleased with the subscription. It is kind of spendy but it makes it easier when it is a gift. I think I might make a scarf with the four skeins of Rowan Cork, I don't think I will make the Poncho pattern.
I also have some books on order that are not released until the beginning of May. I am excited about their arrival.
Secret Pal 4

Hi Secret Pal. It is OK you did not reveal yourself in your comment. I know now your name is Heather but when I click on your name it takes me to a page that says Profile not Available. So I still do not know who you are. Still a secret. I am looking forward to the package you sent. I can not wait for the big reveal at the end of the month. This has been an awesome experience and mostly because of how great my secret pal is.
Up Coming Crafts
A week ago I lugged my sewing machine out to hem some pants and I was over come with thoughts of sewing projects. I had the itch to start up some sewing. I thought I might make a cover for my lawn chair cushion.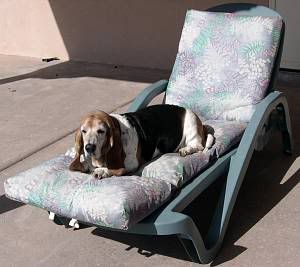 Here is what it looks like now. I do not even know how old it is. I originally bought it at an estate sale for $15. It is pretty faded now and I thought if I make a cover then I could toss it in the wash when it gets dirty. As you can see the dogs enjoy laying on it also.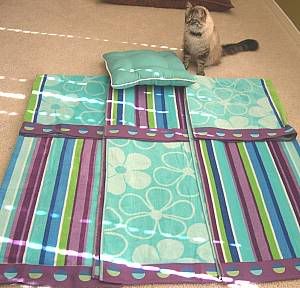 I ended up buying these three large beach towels from target and also this throw pillow. I thought it would be cheaper yardage wise to just buy towels. Plus the terry fabric usually does not have many color choices at the fabric store. I don't have a pattern I am just going to wing it.
I also took a trip to Jo Ann's fabric store and found some great pattern combinations
Here they are: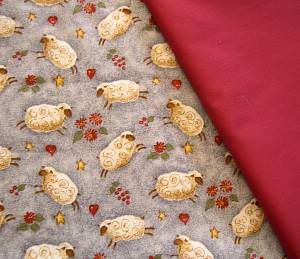 I thought I might make a knitting needle roll up case with the Sheep fabric and maybe a couple of Hand bags to hold knitting projects with the other two patterns.
New Knitting Group
I joined a new Knitting Group called Knit'n Fit. This group was started up by Cara over at
Earth Mother
. It is a support group for knitters that want to stay fit. I think this is a great idea. I am hoping it will keep me motivated to get back on track with a healthier lifestyle. Go check it out
here
.
OK I better stop. I am not sure anyone made it to the end of this post.
Have a Great Week!