Albuquerque - A Day and a Half
webshots photo
I was dragged kicking and screaming to Albuquerque for a boring Dental conference. Hubby did not want to go alone and forced me to go with him. We sent our dental assistants, hygienists & office manger also to get some continued education credits.
Last time I went to Albuquerque I had a bad experience. We stayed at the Double Tree right next to the conference center. When I was in the shower the first night I had soap in my eyes and I turned to rinse off the soap and knocked my temple smack on a porcelain soap holder that was right at my head level. WTF! At first I thought I was going to pass out, then I thought I might be sick. Chris must have heard the bang of my head hitting the hard surface because he came into the bathroom and said "Are you alright?" I started to sob and said please bring me 4 Advil. I finished the scary shower and then lay down. I promised myself I would never come back to Albuquerque and I sure as hell would never stay at another Double Tree Hotel.
Ok back to the present time. I had to go back to Albuquerque. We stayed at the Residence Inn. It was on the East side about 4 miles to the conference center. We arrived in Albuquerque Wednesday night after working a full day at the dental practice. We took the employees out to dinner the first night to P. F. Chang's. I think I have already mentioned this restaurant before. It is a great place and everyone enjoyed it.
The next day I dropped hubby off at the conference and then went back to the room to knit for two hours until the stores started to open. I brought the lace scarf to work on that my secret pal had given me. I know this scarf is taking me forever but I am still new to lace work. It does not look like much but I have been keeping track and I have done 73 repeats of the pattern which makes a total of 292 rows. I am almost finished with the first skein of yarn.
Finally 10am rolled around and I ran out the door heading for
Village Wools
, the LYS in Albuquerque. I had heard from other bloggers that this was a good shop. I was prepared I had called ahead of time to see what kind of yarns they carried and had a list of future projects I was planning on making with the yarn requirements. This shop was unbelievable. It was Wednesday around 10:15am and the place was buzzing. Several shoppers and many employees wondering around. The even had a dog, that was walking around looking to be pet and have her belly rubbed. I was blown away at the selection they had. It was four times as big as my LYS and they carried all the name brand yarns. I spent at least two hours that morning wondering around with a wicker basket tossing in yarns and pattern books. I also even went back the next morning for an hour looking through their pattern books. Here is what I got:
Rowan Cashsoft Dk in color Bella Donna 502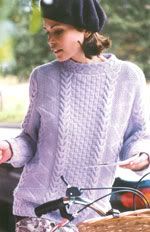 For "Hudson" from the Rowan classic Café book
Rowan Cashsoft DK in colors lime 509 & crush 506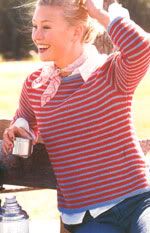 For "Jersey" from Rowan classic Café book
Rowan Cotton Glace in colors: Ecru 725, Sky 749, Hyacinth 787, shoot 814, & Glee 799
For one of these "Moira Bags" from Rowan book 27
Jaggerspun Zephyr Wool Silk (6 ounces)
For this "Flirty Ruffles Shawl" It is a Fiddlesticks Knitting Pattern
I found the pattern at the shop. This is very ambitious. Don't plan on ever seeing me finish this one. The ruffle alone will probably take me two years. I just really love the pattern and new that if I did not buy it I would be searching for one like it for years to come. I will give myself at least 5 years to make this one.
3 Noro skeins in color 147 & 2 Lorna's Laces in shepherd sock weight in color Desert Flower. These will probably be a felted Booga Bag & a pair of socks.
I also picked up two Dale of Norway pattern books #132 & #138.
The book in the middle is Westminster Patchwork and Quilting Book #3. This one is a hard one to find. These Patchwork books are wonderful pattern books for making quilts.
If you do not know Kaffe Fassett, Let me tell you he is one of my favorite artistic quilt makers. He is definitely an artist he quilts, paints, knits, does needlepoint & mosaics. I especially love his quilting books. So talented, check out his website
here
.
As you can see I broke the bank and will need to skip a few meals after the amount of money I spent at Village Wools. I could lose some weight anyway. 8)
I would say the yarn shop was the best thing about Albuquerque. Other than that it was uneventful. Chris and I did find a great Cajun seafood restaurant called Pappadeux. If you like good Cajun crawdads and like fried gator, a good gumbo, and frog legs. Get in line behind me because this restaurant was the BOMB! So good. Here is there
website
.
Well I am back home again and this summer sure is turning out to be a busy one.