Three Nights in Vegas
What a weekend. Sure glad to be home. We had a wonderful time in Vegas but three nights is about all we can handle. We stayed at the Bellagio. You know the one with the musical fountains out front. Here are some postcards of the hotel. Way better than any photo I can take.
This is the front of the hotel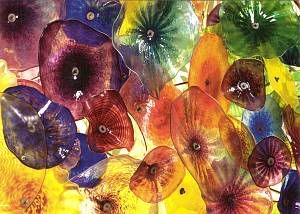 This is a picture of the ceiling in the lobby
This is one of the pools
Here are a couple of photos I took in the hotel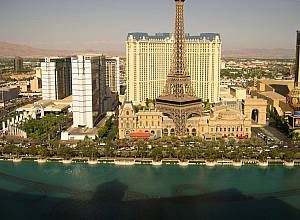 Our view from our window in the room. We had a great view of Paris across the street. Also we could see the fountains from our room. At night it was weird because when the fountains went off our tub would drip water.
Here are two of the flower arrangements. There were hundreds of different ones all over the hotel. Simply Gorgeous.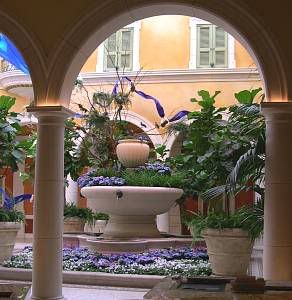 Here is a photo of the tallest chocolate fountain. I know why it is behind glass. The temptation to stick your finger into the chocolate is very great.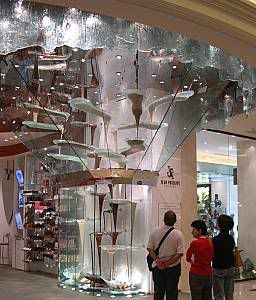 The Bellagio also has it's own botanical garden. Here is a picture of a giant eagle nest. It is replicated to the actual size of one that was found. Inside the nest they put two animatronic baby eagles. They screeched and made noises. Very Cool.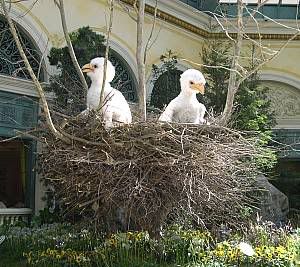 The first morning we ate breakfast in an outside café near the pool. Here is my Eggs Benedict. Tasty.
Entertainment

Hubby and I walked to MGM to see Siegfried & Roy's Secret Garden and Dolphin Habitat. Here are some photos.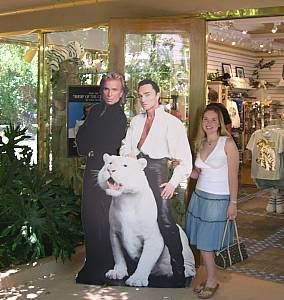 Me & Siegfried & Roy.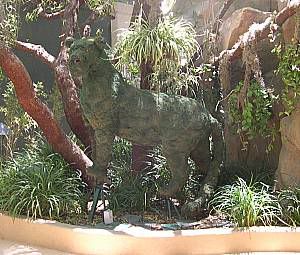 Chia Cat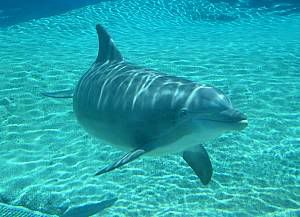 We also went to
Star Trek the Experience
at the Hilton.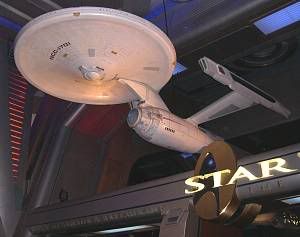 This was pretty cool. It was a museum with two rides, a restaurant, and gift shop. I would have taken more photos but hubby took me on the Klingon Encounter ride first. This is one of those motion movement rides that make you want to puke your guts out. I was a little green after the ride. The other ride Borg Invasion was just a 3-D show that was pretty cool. Although while waiting in line to get into our seats some dude was dressed like one of the Borg and was scaring the hell out of all of us grown ups. Overall it was worth the ride on the shuttle all the way to the Hilton.
The Shows

Zumanity
We went to two shows while we were in Vegas. The first one we went to was hubby's pick "Zumanity". It is one of the Cirque du Soleil shows. It is a bit riska. There is nudity. Also it was mainly about sexuality and had sexual content. The show was very artisticly done. This is the second cirque show I have seen and there is just no words to describe the experience. AMAZING! I bought a program and was trying to find a photo to scan in to show you but their was not one I thought I would not get comments about. Here is a postcard that one of the cast handed to me. He was playing a character that was a player. He handed it to me and mouthed the words. "Call Me". It was very funny. He was doing it to all the ladies.
Also if you are going to the show and planning to get a drink. I recommend the Zumanitini. It is a whopper of a drink. 8)
Momma Mia

The second choice was mine. I had heard such great things about Momma Mia and I am a big fan of ABBA's music. I know I am a dork.
This show was Soooooo much FUN. It is a great show to bring a couple of your girlfriends, or a couple of your gay male friends. My husband even enjoyed it and he does not know most of the songs. I loved this show. I would see it again.
The Bar
We went to The Nine Fine Irishmen Pub in New York-New York before one of the shows. It is a great little Irish Pub. It is a two story bar with two bars and also dinning space. We sat at the bar several hours enjoying a few appetizers and several drinks. This is when the bartender and I invented my new favorite martini. He made one with Mandarin Vodka & Midori. It tastes like sweet tarts. It was delicious. When we were leaving around 9:30pm the bar was just getting warmed up and several gentleman were starting to sing songs down stairs. I am sure it would have been fun to stay and watch everyone get smashed. (just a side note if you are going to sit at the bar for several hours be sure to tip according to the time you sat in the seat) This was great bar, I recommend it.
The Art

Of course I could not go to Las Vegas without going to an art Gallery. I was so lucky that The Bellagio was featuring "Monet" in their Fine Art Gallery. I have not seen Monet paintings before in person. This gallery gave you one of those ear recorder things as you went in and all the paintings were numbered. When you were in front of one of the paintings you would hit the number of the painting on the recorder number pad and a voice would tell you about the painting and some back ground on Monet as well. I was in there probably over a half hour. There were around 21 paintings dated from 1864 to 1900. It was a very moving experience. I almost cried but was afraid to bother the other people around me. Here is two of the painting I saw at the Gallery.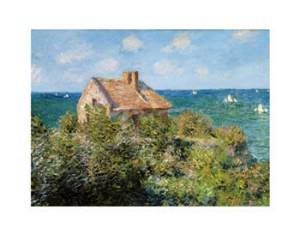 This one is titled "Fisherman's Cottage on the Cliffs at Varengeville" 1882 oil on canvas.
This one is titled "Grainstack (Sunset)" 1891 oil on canvas.
I love his work not only because most of it is with flowers and gardens but because of how he use's the light to capture the moment.
There was a giftshop outside the Gallery. I picked up the book on the work shown in the Bellagio Gallery and also found this amazing book.
Japanese Prints by Gabriele Fahr-Becker
I am so in love with this style of prints. I love the muted colors, and yet so much detail. I could stare at these prints for long periods of time and still find something that I did not notice before. One day I plan to make a quilt using fabric to depict a print like some of the Japanese artwork I have seen. Maybe in 20 years when I become older and wiser I will be able to master such a thing.
The Shopping
Finally the shopping. Here is a photo I got off the Casers website of the Forum Shops.
Casers shops was right next door to the Bellagio. Lucky Lucky Girl! When hubby took a nap during the day I ran over to the shops. I had been saving money for this trip for several months just to go shopping. I am getting excited just thinking about it.
Anyway here are some of my great finds.
Of course the first place I ran to was Anthropologie. My favorite store.
I found this great crocheted necklace/belt. I found this in the clearance room for only $14. I know what you are thinking I probably could have made something like this. But not for that price if I had to buy all the different colored yarn plus there is little jeweled beads glued into the center of each flower. Also I have not crocheted in years.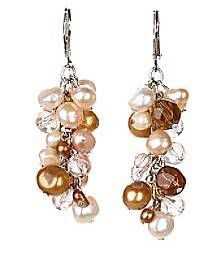 I found these earrings. I love the colors. They are kind of heavy but they look awesome on.
I also picked up two skirts. One in the clearance room and one off the rack. I could not find a picture of them on the website.
I went into the Coach store and treated myself to an overpriced wallet.
I really like this line they have come out with for the season. I am saving up for a bag to match. I am hoping it will be at the outlets by the end of summer for a price break.
Great Weekend
Well overall it was a wonderful weekend. The only thing I would change is probably to book the shows earlier. Both shows were after 10pm and we are both morning people. It was kind of late for us. You might be wondering if I gambled at all. I didn't. Hubby did a couple of times and as fast as his money went away I was not in any hurry to throw my shopping funds away. I love Las Vegas for the Restaurants and the Shows. It is like NY for me but with warmer weather.
When we got home we noticed that one of the wild rabbits got very comfy in our back yard. Here he is a couple feet from the back door.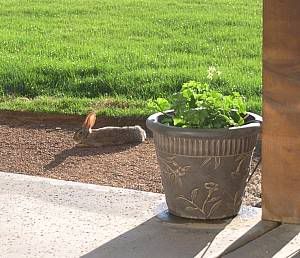 Here is Cosmo a little perturbed and looking at the bunny in his back yard. Cosmo being house bound was unable to handle the situation himself. He did however grin and whisper to the bunny "wait till my sisters Brandy & Haley come home and run you off the property"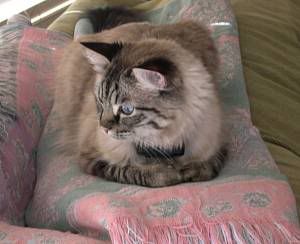 I can report that is exactly what happened. The moment we brought the girls home. They spent most of their first day home sniffing the back yard trying to find another bunny to chase.
Was this post long enough or What? Hope you enjoyed it.