Stash Enhancement
Step Away from the computer and no one gets hurt. It use to be that one would need to leave the house to spend money. Now with the convenience of online shopping one can get in a lot of trouble. Take a look at some of the trouble I have been into.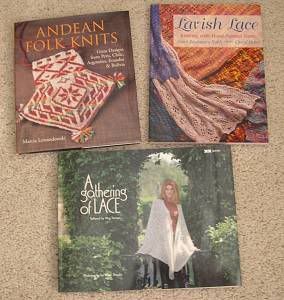 Andean Folk Knits by Marcia Lewandowski: this book I had preordered awhile back. Kerstin- At My Knits End has started the Coca Bag pattern from the book. Go check it out
here
. The book has some great little bag patterns.
As you can probably tell by the next two books I am on a lace kick, or shall we say obsessed. The books are: Lavish Lace by Carol Rasmussen Noble, Cheryl Potter & A gathering of Lace by Meg Swansen. I think I already mentioned in an earlier post about this book. Anyway to compare them both. Lavish Lace has 13 designs most are small and all projects were done using cherry tree hill yarns. Only a couple of the patterns appealed to me. The Gathering of Lace book has about 46 patterns and a very wide assortment of things to knit.
Onto the Yarn
I was looking through eBay looking at all the beautiful hand dyed yarns and fell for a couple of their lace weight yarns. I had bought things on eBay before but had always just gone for the buy now. This was the first time I actually bid on two items and won. Here is what I got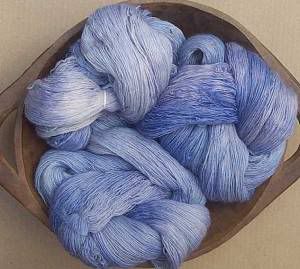 They are both kettle dyed Pure wool lace yarns. One in a lavender/blue color & the other in pinkish hues. The colors are a little off in these pictures. I won three skeins of each color. Each skein is 850 yds. I got them both at
Serendipity in South America
–eBay store. Now the next step is to get these skeins rolled into balls. I will be doing it the old fashion way. Putting the skein around my feet and rolling it by hand. I think after I finish with all 6 skeins I will be adding a yarn swift and ball winder to my Christmas list.
A Look into my Garden
Dwarf red flowering Oleander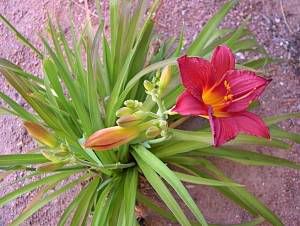 Daylily named "Little Business"
This is a Jasmine. I am not sure what variety it is. It was here when we bought the house several years ago. I was afraid that I had lost this plant. I had planned to replace it. I moved it last year closer to my back porch so I could enjoy the beautiful scent in the late summer evenings. I am so glad it came back.