Three-Needle Bind-Off
Last night I finally finished the back of the Butter Bear sweater. It was my first time doing the three-needle bind-off method. It was easy and the seem looks awesome.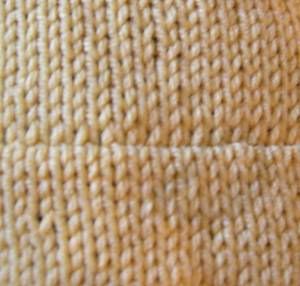 I am not sure I like the 1 inch ribbed collar look. I might rip that out and do a different collar. I will leave it for now and see if it grows on me. I am so excited to start the intarsia on the sleeve. I cast on for one sleeve and worked right up to where the intarsia chart begins. I put it away because it was getting late and I wanted to be bright eyed and bushy tailed when I start my first intarsia.
I plan to start my Weasley Sweater on Friday. I plan to work on the Weasley sweater during the weekends and post about it on Mondays. I will be working on finishing the Butter Bear sweater on week day evenings. I am hoping to finish the Butter Bear soon so I can start some Christmas knitting.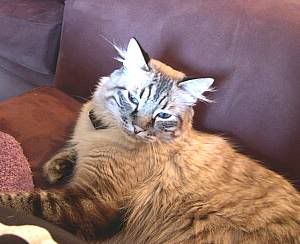 Here is Cosmo sitting with me while I knit. He looks so sweet and innocent. Do not let him fool you. I have caught him several times with a ball of yarn. He has realized he can not play with the yarn while I am using it so has now taken it upon himself to rummage through some of my knitting bags and grab balls of yarn to play with. Just this morning I saw him get into my Weasley bag of yarn and take off running with a ball of tweed hanging from his chops. I yelled and he dropped it in mid run. Looks like I am going to need to find a better way to keep my knitting while not in use. Cosmo is no yarn snob either he will grab acrylic just as fast as wool. He is lucky he is so adorable it is too hard to stay mad at him for long.
I found this on
Hayden
's blog. What kind of yarn are you? I could not resist. Here is my results.
You are Shetland Wool.
You are a traditional sort who can sometimes be a
little on the harsh side. Though you look
delicate you are tough as nails and prone to
intricacies. Despite your acerbic ways you are
widely respected and even revered.
What kind of yarn are you?
brought to you by Quizilla