Shrimp Quesadillas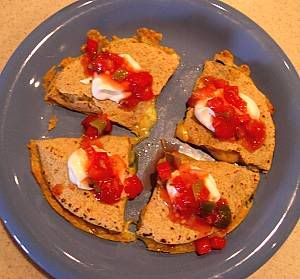 This is my own recipe. You can substitute marinated grilled chicken breast for the shrimp if you like.
6 torillas
shredded Monterey jack cheese
shredded pepper jack cheese
crumbled feta cheese
chopped green onion
fresh cilantro
grilled seasoned shrimp (I used Margaritaville Jammin Jerk Shrimp)
Preheat oven to 375 degrees
I usually use 5 shrimp per quesadilla so toss 15 shrimps in a pan on the stove top. Cook over medium heat for about 10 minutes. Turning shrimp periodically. Shrimp is done when it looks white not clear. Set aside.
Spray a cookie sheet and place three tortillas on it. Top tortillas with Monteray Jack cheese. Just to cover the bottom, make sure to get all the way to the edges. Next sprinkle chopped green onions, and feta cheese just enough for seasoning. Then cut each shrimp into four pieces and place about five shrimps on each tortilla. Next sprinkle on some fresh cilantro.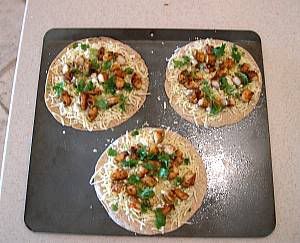 Then cover with pepper jack cheese. Lastly top with a tortilla. Place in oven for about ten minutes just until cheese is melted and tops of tortillas are lightly toasted. Cut quesadillas into 4 pieces using a pizza cutter. Top with your favorite toppings. I used sour cream and salsa.