3-2-1 HAPPY NEW YEAR
It is New Years Eve. I wish all of you a happy and safe New Year. Chris and I plan to stay home tonight. We will probably be asleep before midnight. I know we are pretty exciting.
My Christmas
My in-laws came to stay with us to celebrate the holiday. It was wonderful having them around. Brandy, Haley, and Cosmo especially enjoyed all the extra loving they got.
Here is some pictures of my little holiday helpers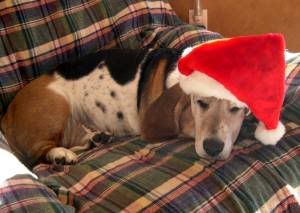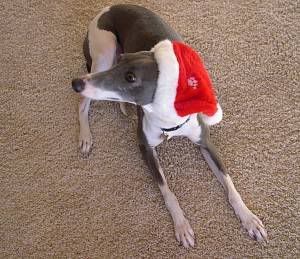 Here are some pictures of the helpers enjoying presents from the grandma's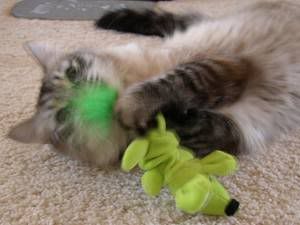 Cosmo Also got some Catnip, which is his drug of choice.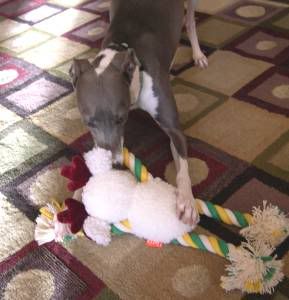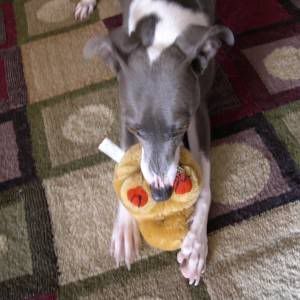 Christmas Eve
My MIL made home made Clam Chowder & a loaf of beer bread Christmas Eve. Yummy, that stuff is so good. We watched the new DVD Lord of the Rings Return of the King extended version. We watched it straight through with no breaks. That is how good it is. You don't even notice how long it is, you are to into the story.
Christmas Dinner
I cheated. Yes, when the cook is beyond busy during the holidays, what does she do? She orders already made Christmas meal and reheats the containers for Christmas dinner. Here is my wonderful spread, in all of its silver throw-away pans glory.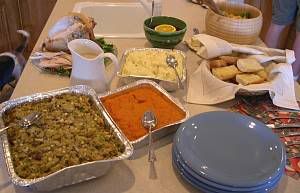 We had turkey breast, mashed potatoes, sweet potatoes, stuffing, gravy, Caesar salad, & Orange cranberry sauce. For desert we had Cranberry Apple pie w/French vanilla ice cream.
Did someone ask Santa for knitting stuff this year?
Boy did he deliver. I am so proud of my husband he actually went into the book store and asked the man behind the counter for the knitting books I had mentioned wanting. It could not have been easy for him to say Stitch 'N Bitch Nation let alone ask another guy where he could find it. To Chris's surprise the guy new exactly where it was and asked if he needed to buy the first book also. Chris new the answer and said no she already has that one.
Here is the knitting loot.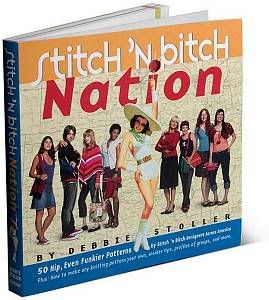 Stitch 'N Bitch Nation by Debbie Stoller. I felt like I owed it to Debbie to buy this book after all her first book was how I learned to knit and how I started this whole knitting obsession. The book has some real cute patterns in it, that look like a lot of fun to make. There is even a dog sweater and some mouse cat toy patterns. This makes it fun for the whole family. 8)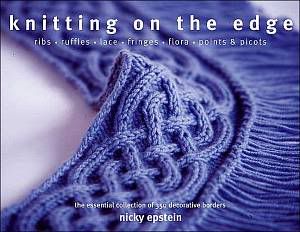 Knitting on the Edge by Nicky Epstein. This is a great book. It has 350 decorative border patterns that you can add to your knitted objects. I have been thinking of making an afghan square by square and thought I could use this book and it's patterns to make a different pattern for each square of the afghan. It will be like a swatch afghan and will give me practice learning new stitches.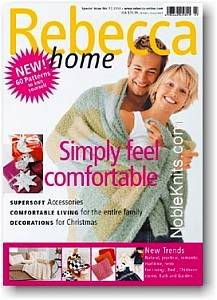 Rebecca Home. This has got some great patterns for the home. You can find this pattern book at
Noble knits
. If you want to view all the pattern go to
Rebecca-online
.

Tahki Yarns Fall/Winter 2004 collection. Here are some cool patterns in this collection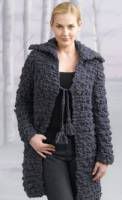 #18 Ghost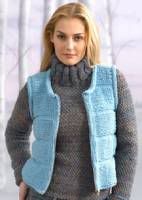 Vest #20 Panda

Filatura Di Crosa Fall/Winter 2004 Collection. I think I am most excited about this collection. Here are a couple of patterns I am thinking about making.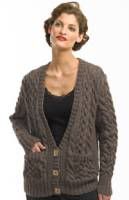 #9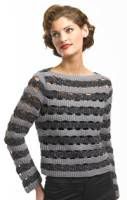 #11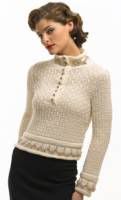 #14
Both the Tahiki and the Filatura Di Crosa you can find at
Yarnware
. If you want to see the other patterns in the collections you can view the entire pattern collection at
Thakistacycharles
.
Coming Soon
An update on my Weasley. Also knitting goals for the New Year.
Holiday Cheer
Of course my holiday did not go by with out a little cheer. Here is mine and my MIL Christmas Champaign Cocktails.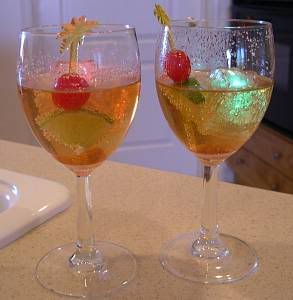 Very festive especially with the light up ice cubes in either red or green.
My toast tonight will be " Here is to all my new found blogging friends and to a new year of expressive creativity. May all your days this new year be filled with love, laughter, and the joy of living each day to the fullest" Clink Clink