Tis the Season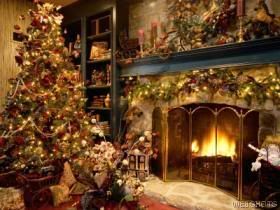 Yippeee! We made it through our first week of being open to the public. Thanks to all the finger and toe crossing it went well. Next week will be a short work week due to we are closing up early for the holidays. I can not wait for that break.
Mrs. Grinch
This year I thought I would play the role of Mrs. Grinch. I am not decorating for the holidays. That's right no tree, ornaments, wreaths, lights, stockings, tinsel or garland. I just did not have the time to do it this year. Since my husband usually only has the task of putting the lights on the tree and I do all the rest. We decided not to decorate due to lack of time. We usually get a real Christmas tree, and I was afraid that if we had got one and left the dogs & cat with the tree all day while we were at work we would come home to a scary site. I will try not to embarrass them to much, but lets just say every day I have come home they have gotten into something they should not have. One night it was so bad we were tempted to leave Brandy and Haley outside all night with out eating their dinner. Of course Chris caved in. Talk about a bunch of daddies girls.
The Grinch Song Lyrics
:
You're a mean one, Mr. Grinch You really are a heel,
You're as cuddly as a cactus, you're as charming as an eel, Mr. Grinch,
You're a bad banana with a greasy black peel!
You're a monster, Mr. Grinch,
Your heart's an empty hole, Your brain is full of spiders,
you have garlic in your soul, Mr. Grinch,
I wouldn't touch you with a thirty-nine-and-a-half foot pole!
You're a foul one, Mr. Grinch,
You have termites in your smile, You have all the tender sweetness of a seasick crocodile,
Mr. Grinch, Given a choice between the two of you I'd take the seasick crocodile!
You're a rotter, Mr. Grinch, You're the king of sinful sots,
Your heart's a dead tomato splotched with moldy purple spots, Mr. Grinch,
You're a three decker sauerkraut and toadstool sandwich with arsenic sauce!
You nauseate me, Mr. Grinch, With a nauseous super "naus"!,
You're a crooked dirty jockey and you drive a crooked hoss, Mr. Grinch,
Your soul is an appalling dump heap overflowing with the most disgraceful assortment of rubbish imaginable mangled up in tangled up knots!
You're a foul one, Mr. Grinch, You're a nasty wasty skunk,
Your heart is full of unwashed socks, your soul is full of gunk, Mr. Grinch,
The three words that best describe you are as follows, and I quote,
"Stink, stank, stunk"!
OK OK
I might not be that bad. I did have a pimple last week the size of Mt Everest sticking off of my chin. That was pretty gross. Thank Goodness that finally cleared up. The thing was so big I could have hung Christmas ornaments off of it. 8)
Although I am not decorating for the holidays I did find a house in one of the local neighborhoods that was decorated a little extra to cover all the houses of the people that are not able to this year. Here is a look at it during the day.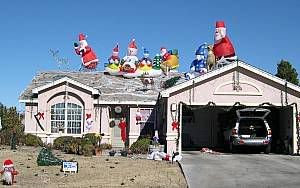 Here it is all lit up at night.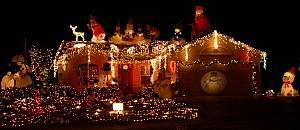 First time I saw it I thought it was a little confusing having so many santas on the roof. Then my psychological training kicked in and I started wondering about the people that live there. Maybe last year they did not decorate at all and they are making up for it this year. Or maybe the husband is mad at the wife and is doing it to tick her off. Or maybe it was a bet to see how much decorations they can fit on and around their house. Or maybe they hate their neighbors and purposely put up a ton of lights to flash into the neighbors windows at night. The possibilities are endless. Of course I could always go up to the door and ask them why they decorated so much, but what's the fun in that. Ones imagination is always more interesting then the truth. 8)
Enough of the chit chat

It is time to get down to business. I have got family coming in on Wednesday from Oregon to stay with us through the holidays. I have got to get this house cleaned from top to bottom. Since my usual cleaning schedule has been turned into I will get to it when I get to it, It will be a huge endeavor to get this place shining again. Since one of the family members that is coming to visit is my mother-n-law the place needs to be extra sparkly. You know how it is I have to show I am taking care of her boy. 8) I joke my mother -n-law is the coolest.
Holiday Shows
One of my favorite Christmas Movies is National Lampoons Christmas Vacation.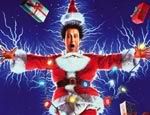 This movie cracks me up every time I watch it. I love it. It is always a must see around the holidays for me. It will be on NBC Friday night if you want to catch it.
One of my favorite holiday movies to watch although I have not seen it in awhile is Emmett Otter's Jug-band Christmas.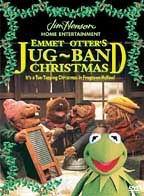 This movie came out in 1977 and is a Jim Henson puppet movie. It is awesome. It is funny and sad and a great family movie to watch around the holidays. You know it has got to be good if Kermit the frog is in it.
Holiday Music
I picked up the CD "Sleigh Full of Songs" at Starbucks and have not been able to stop playing it over and over.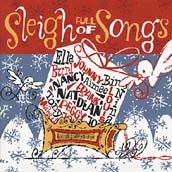 It has all the greats featured like Peggy Lee, Frank Sinatra, Ella Fitzgerald, Tony Bennett, Louis Armstrong and much more. It is fabulous and upbeat.
I love most Holiday songs. One of my very favorites is Blue Christmas by Elvis Presley. I remember listening to it when I was a kid. Of course you can not beat Elvis's deep smooth voice then you have got the back up singers in their high pitched voices. My girlfriends and I always took on the roll of the back up singers belting out WHOOwhooooowhoowhooo. Yes again I have revealed my true dorkiness.
Favorite Part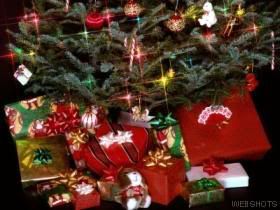 My favorite part of the holidays is of course opening presents and sitting around all day in my Jammies playing with the new things I got. I know I should say my favorite part is spending time with family and sharing and learning and experiencing the true meaning of the holidays. But to be honest the best part is playing with your toys.

Tis the Season
Tis the season to re-format my hard drive. Falalala la la la la la.
Yes it has come down to this. I can not take it any longer it is time to go back to the basics and start all over again. Over the holidays I am reformatting my hard drive because my Norton & spyware and pop up blockers have not been able to get rid of the pesky adware that has accumulated on my system. Since the adware and virus people are a step ahead of the anti-virus people it has to be done. A person can only take so much. This is a dreadful task that turns your computer into a baby and you have to start all over and download back on all the stuff you want and remember all your passwords to your frequented sites & search around to find all the great sites that use to be bookmarked on your favorites.

Have a Wonderful Holiday Season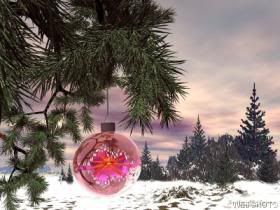 Drink lots of Egg-Nog & stand frequently under the mistle-toe
I will be back in January after the holidays.
Don't forget in January there will be a new Secret Pals 4 for all you knitters out there.
Warmest Wishes to you and to yours.