Busy Bees
O my goodness to say I have been busy this past week has got to be the understatement of the year. Holy Moley Kajoley, fraholy, OK if I am incoherent in this post please just write it off to lack of sleep.
All right, I have about 15 minutes to make this post I am cutting out personal hygiene today in order to do it. I will put on a little extra perfume and swish some mouth wash. That hopefully will cover it for one day.
Yarn of the Month
When I reached into the mailbox Saturday Night and pulled out my yarn of the month package, I could have cried. I had such a long dreadful day it was just what I needed. I have had no time for my knitting and this just helped me bring that smile back on my face and dream of the possibilities of projects I could make with the yarn samples given.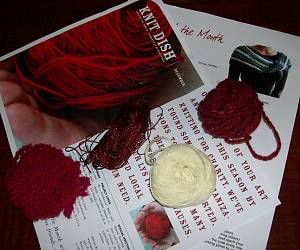 The pattern was of a Holiday Cowl. Not something I will make. The yarn was all Christmas red or white. 1) Alpaca Boucle by Plymouth 90% Alpaca, 10% Nylon, 2)Lurex Shimmer by Rowan 80% Viscose, 20% Polyester, 3) Shimmer by Crystal Palace 86% Acrylic 14% Nylon, & 4) Silkroad Tweed by Jo Sharp 85% Wool, 10% silk 5% cashmere. I liked all 4 yarns.
The flyer that came with the package talked about knitting for charity. It listed
Stitches from the heart
,
Project Linus
, &
Special knitting forces
as three charities for knitters to get involved in.
Poor Haley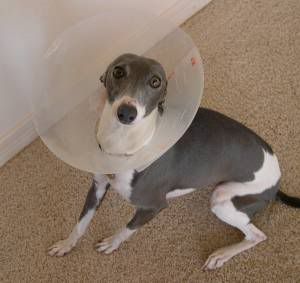 What kind of lampshade do you wear? Haley prefers see through plastic. Poor Haley has a rash on her belly and will not stop itching it. For her own good the vet prescribed a bunch of medicine and to wear this collar when we are not able to watch her. Since Haley started the medicine we can already see the rash is clearing up.
I feel like such a bad Mommy this week. We have left in the morning and have not been able to get home until late in the evening. I feel like I have abandoned my animals. We get home and feed them and they just go to bed. There is no play time or cuddle time left in the day. Today is the only day I have been home. Of course, I had a million things to do today.
Christmas Cards
Today I sat down and filled out Christmas cards to get in the mail on Monday. Does anyone else do this dreaded task. I don't mind sending the ones to immediate family, but the ones to family you hardly talk to except giving them the yearly update in the Christmas Card it is time consuming. The part I like the best is picking out what Christmas Cards to send out this year. I chose this card.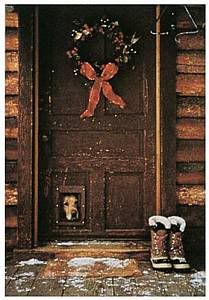 This card jumped out at me. I have not been home very much lately and this picture feels like home to me. I wish I could jump into that picture and open that door. Grab some hot cocoa and sit down by the fire with yellow dog at my feet. I thought I would send this card to share that feeling of home with my family.
It is printed by Palm Press. You can check out their website
here
. They have many good cards. I know it might be a little late to get some for this year but there is always next year.
Office Decorating
This week I have put together 5 office chairs and 1 and a half desks. The chairs were not so bad. The desks come in two boxes each and are in a million pieces. It took me two and a half days to finish one desk. I feel like I got a work out. My muscles are all sore. The reason why I have not finished the second desk is that we were missing a piece. I called the manufacturer and it should arrive next week. You are probably wondering why I did not order them put together. They were charging $300 for each desk to be assembled. I am cheap and now I am suffering. Oh well, what does not kill you makes you stronger.
My favorite part of this whole starting a new dental practice has been picking out artwork to decorate the rooms.
Here is a print I chose for my office.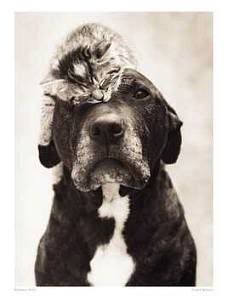 This print is named Loki's kitten photographed by Rachael Hale
I have been a huge fan of Rachael Hale's work for a couple of years now. She photographs animals. All of her pictures are gorgeous and done in soft colors. I usually buy one of her calendars every year. You can view her gallery
here
.
My time is up. I need to go make a quickie dinner.
Thank you every one for your well wishes on our new business.
Have a great week.