LYS & Movie
I made a little date with myself and treated to a movie and checked out the new LYS.
The Movie
Finding Neverland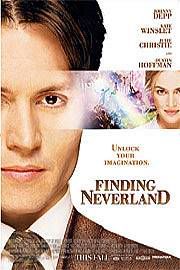 The movie was based on the story of J.M. Barrie's friendship with a family who inspired him to create Peter Pan. Cast included Johnny Depp, Kate Winslet, & Dustin Hoffman. This was a great movie. It is wonderful to witness someone's imagination as it unfolds into a creation of a story.
The movie was a big tear jerker. I tried very hard to hold back the tears, knowing I had plans to go to the new yarn shop after the movie. I failed and was amongst the masses at the end blowing my nose and trying to pull my self together. I went into the bathroom to excess the situation. My skin was all blotchy and topped off with a red nose and eyes. Normally I would wait until the movie came out on video and watch it in the comfort of my home. Especially if it is going to have some sad parts, that way I can fully sob out load and get the full affect of the moment. But this movie is rumored to be up for best picture of the year and also best actor and actress. I hate that when I have not seen at least one of the movies nominated for best picture. Being such a movie lover, I would feel like a fraud. This movie was wonderful and it evoked lots of thoughts on time and how big a role it plays in our lives. It gets a big thumbs up from me.
LYS

The new yarn shop was located in the old down town area. It was not easy to locate because some of the stores are on top of each other and kind of wind around instead of in a straight row. I finally found the entrance. I walked inside and had a deer in head lights moment.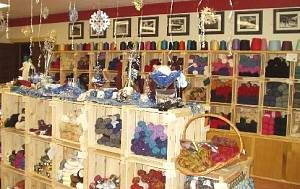 It was a large room with tons of YUMMY YARN. I am talking Real yarn. The lady was very nice and came up to me several times asking if I needed any help. I was lost, and overwhelmed. I walked around and probably touched each type of yarn at least twice. Next time I definitely need to go in with a list of what I need for future projects. I can see how people can get carried away and buy tons of pretty yarn and not have a plan on what to use it for.
In the shop there was also a seating area for some knitting in public. Also the sales lady gave me a class schedule. There were many different types of crochet and knitting classes listed. Some of the classes listed were Fair Isle Knitting Technique, sock workshop, Bead Knitting, Rainbow dye class, & also a spinning class.
Here are my additions to my stash I brought home with such glee.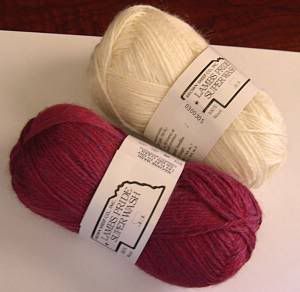 Lambs Pride 100% wool in colors Alabaster & Romantic Ruby
I plan to use these for this pattern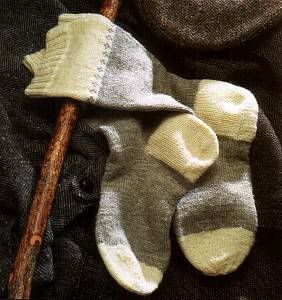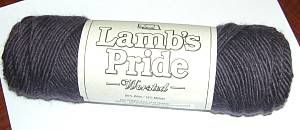 Lambs Pride 85% wool/15% Mohair in color M-29 Jack's Plum
I plan to use this for this pattern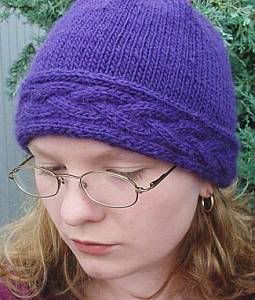 Coronet from Knitty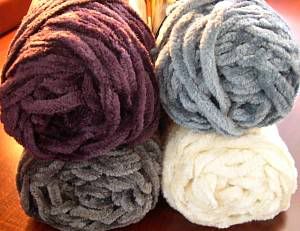 Chenille in colors Dusty Blue, Purple, grey, & Antique White
I plan to use these for this pattern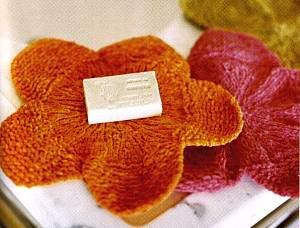 I also picked up a skacel addi turbo circular needle in size US#8/16"
Also this book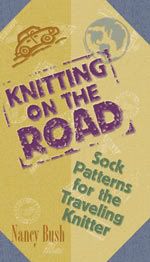 Knitting On the Road by Nancy Bush
I am so glad to have found this shop and feel I will be spending lots of time there. Hopefully more time hanging out and knitting then emptying my wallet.
Not all fun and Knitting
I wish my weekend was all about fun and knitting. Unfortunately I live in the real world, and that world can get pretty dirty when left unattended. This weekend we also cleaned the house which I lovingly refer to as the CAVE. The amount of dust is unbelievable. Now it is clean and I can relax and work on my Weasley Sweater.
Cosmo's favorite part of cleaning day is removing the sheets from the bed. He likes to play Hidden Tiger Crouching Kitten in the bundle of sheets.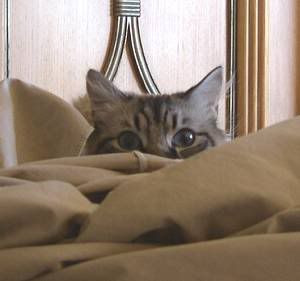 I don't see him, do you? You must watch out for the trade mark Cosmo move that involves stealth stillness followed by a wiggle of the back end followed in turn with a leap into the air with a lethal pounce on his victim.