Heading to the Northwest
Thought I would give a last minute update before leaving for the seminar. The seminar is in Oregon. I will need to say good bye to the sun for a couple of days. Maybe we will bring it with us.
Felted Rose purse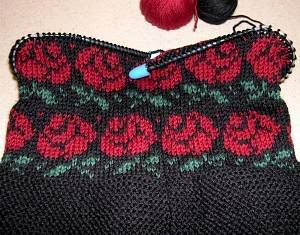 This is turning out great. I would probably be much further along but I have been working on other things.
Surf & Turf Table Runner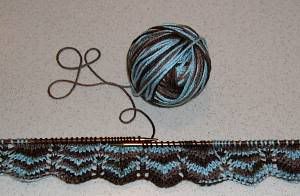 I decided to make a table runner out of the TLC yarn. I am using a pattern out of my little box of scarves. It is the Chevron and Feather scarf pattern. I am just making it wider. I think it shows off the color nicely. I think this is the project I will take with me this weekend. I originally was going to bring my cashmere scarf to work on but I just can't bring that wonderful cashmere onto such a contaminated airplane. If the ball of yarn were to fall and roll across the floor I might have a heart attack. 8)
Skirt Bad News

I ran into the fabric store to grab some more of the multi green fabric that I had run out of. Of course it was all gone. CRAP! My legs are short so I might see what it looks like with out the bottom tier.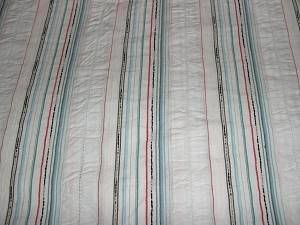 I did find this fabric as an alternative just in case. This was on sale 40% off, can't beat the price. I might make another one in this if the green one does not work out.
Have a great weekend.