Cosmo's Birthday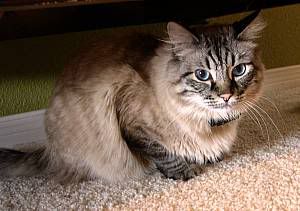 Cosmo turns 3 years old today.
He is celebrating with some yummy treats and a can of Fancy Feast's Gourmet seafood dinner. That boy can not get enough seafood.
Cosmo is so precious to me. I would like to dedicate the song "How Sweet It Is" on his birthday. This is a great song and it has been sung by many artists. A few of my favorite versions have been sung by: Michael McDonald, Marvin Gaye, James Taylor, & Michael Buble'.
I will write the lyrics accompanied with some photos I took of Cosmo yesterday to mark his 3rd birthday.
How sweet it is to be loved by you
How sweet it is to be loved by you
I needed the shelter of someone's arms
And there you were
With sweet love and devotion
Gently touching my emotion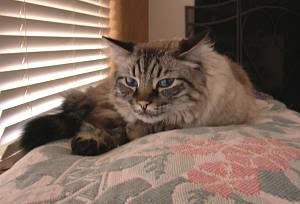 I want to stop - to thank you baby
How sweet it is to be loved by you
How sweet it is to be loved by you
Open my eyes at night
I wonder what I would be without you in my life
Everything was just a bore
All the things I've done
You know I've done them before
But you brightened up all of my days
With your love so sweet and in so may ways
I want to stop - to thank you baby
How sweet it is to be loved by you
How sweet it is to be loved by you
Sweeter than the honey from the bees, baby